This Is the Most LGBT-Friendly City In America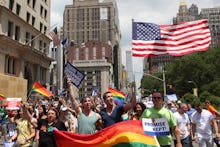 The most LGBT-friendly gay city in America has been declared. And while the classification is certianly up for debate, many people will doubtless be surprised to see which U.S. city snagged the top spot.
San Francisco, with its rich history of LGBT sensitivity and advocacy, was not number one. According to a data analysis accounced in time for Pride Month, Seattle is the best place for LGBT folks. 
This year the top five includes three California cities, cementing the state's domination as the gay abode. Despite its own reputation as a haven for gay people, New York didn't feature in the top-10, while Atlanta and Austin, Tex. were the only cities from the south to make an appearance.
With a 100 percent score on the Human Right's Campaign index, Seattle topped the list and aced all three criteria the blog used in their data crunching. Seattle is also home to the highest percentage of same-sex households among all major cities in the U.S. and the fact that gay marriage is legal in Washington helped its gay-friendly quotient.
Image Credit: NerdWallet
According to NerdWallet, the deciding factors included a thriving LGBT community with a variety of options for peer support, a low number of hate crimes involving sexual orientation, and LGBT city policies, including "non-discrimination laws, relationship recognition, employment practices, city services, law enforcement and municipality leadership."
This metric may have hurt New York specifically due to a spike in violence targeting the LGBT community, even in "safe" neighborhoods such as Chelsea. New York police investigated almost double the number of LGBT-related hate crimes ranging from slurs to physical assaults and targeted violence against gays. 
Image Credit: NerdWallet
1. Seattle, Wa.
2. San Francisco, Calif.
3. Atlanta, Ga.
4. Oakland, Calif.
5. Long Beach, Calif.
6. Minneapolis, Minn.
7. Austin, Tex.
8. Jersey City, NJ
9. St. Paul., Minnesota
10. Chicago, Ill.