Intense Before-and-After Google Street View Pictures Perfectly Capture Detroit's Decline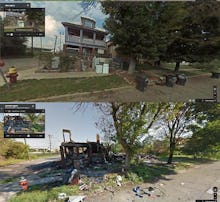 It's one thing to hear about a city falling apart, but another thing completely to actually see it happening before your eyes.
Detroit's decline has been well documented, from its mass exodus to its troubling unemployment rate and crime statistics. "Detroit is the largest American city ever to file for bankruptcy. Billions of dollars in debt, it is no secret Detroit is in rough shape. The city's houses and buildings are falling apart, abandoned and decayed. Recovery is slow, and relief looks to be far off," reported PolicyMic's Benjamin Cosman last November.
It's an unfortunate trend that's been hard to reverse. The city's government and private organizations have been stepping up efforts to entice more people to Detroit, such as offering housing deals to prospective police officers, college students and writers. There are even plans for a private company to turn 150 acres of vacant lots and run-down houses into farmland, but the road to recovery still seems far off.
To put things into perspective, a Redditor compiled these gripping photos of Detroit over the years. Taken through Google Street View, these photos capture the same homes, buildings and street corners as they fall into disarray. It's a heartbreaking look at a city caught in different moments of free fall.
Image Credit (all): Imgur
1. Arndt Street (2009, 2011, 2013)
2. Hazelridge Street (2008, 2009, 2011, 2013)
3. Thaddeus and Leigh Street (2007, 2009, 2011, 2013)
4. Eastwood Avenue (2008, 2009, 2011, 2013)
5. Hickory Street (2008, 2009, 2011, 2013)
6. Hoyt Avenue (2008, 2009, 2011, 2013)