Stanford Rape Victim's Powerful Message Is a Wake Up Call For Colleges Everywhere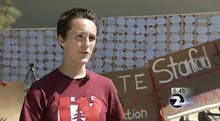 Hundreds of Stanford students rallied this week to protest the university's response to sexual assault after a rape victim emailed the entire college community. 
"Five months ago, I was forcibly raped by another Stanford student," Leah Sharon Francis, a 2014 graduate, wrote. Although she reported the incident and the assaulter was found to be guilty, "Stanford did not expel the man who raped me." Instead, the school allowed him to finish classes and graduate, suspended him for a year (what Francis called "a gap year") and accepted him back to campus for graduate school upon completion of community service and a sexual assault awareness program. 
"Should he change his mind and decide to go to grad school elsewhere, he can choose to walk away from Stanford with no significant undergraduate consequence for forcibly sexually assaulting me," Francis wrote in the email. 
The Stanford rally is just the latest in a long string of students speaking out against rape culture on campus. In May, the U.S. Department of Education published a list of 55 universities currently under investigation for sexual violence-related violations of Title IX, a federal law prohibiting sex discrimination in college — although Stanford was not on the list.
Since then, alumni have withheld donations until their schools take better action to protect victims of sexual assault, students have named alleged rapists by scrawling their names on bathroom stalls, and graduates all around the country placed red tape on their mortarboards last month to show solidarity with victims of sexual violence.  
A Change.org petition started by Francis, calling for mandatory expulsion for individuals found responsible of sexual assault, has garnered more than 2,700 signatures. She also wants to see better education on campus, stronger support staff and increased safety and academic support for survivors. 
"It ruins your life. It's really hard to maintain any semblance of acceptable grades" while going through the university's Alternate Review Process (ARP), for which she had to write more than 100 pages, Francis told the Stanford Daily. "[The process is] extremely detrimental to the ability of the survivor to keep on surviving."
To show their support, students flocked to the rally with painted placards, tweeting the hashtag #StandWithLeah. 
Rape culture on campuses is a problem all over the U.S., but it comes with an added danger at schools like Stanford that feed graduates who were raised in this culture into Fortune 500 companies, top law firms and, eventually, senior government positions. The New Yorker's Ken Auletta called Stanford "the farm system" for Silicon Valley, and quoted major venture capitalist Marc Andreessen as saying that Stanford President John Hennessy is "the godfather of Silicon Valley." Case in point: Evan Spiegel, now the founder and CEO of Snapchat, recently came under fire when rude and sexist emails he sent while studying at Stanford were leaked. 
As one Stanford student, who requested anonymity, told Gawker: "Rape is punished with about as much seriousness as frat hazing: that is, not at all. ... The law simply does not apply to certain students, students who happen to have their own houses and hang out in very powerful packs and move on to become the CEOs of Silicon Valley."