Four Days Before the World Cup, a Huge Scandal Has Put Soccer's Future in Jeopardy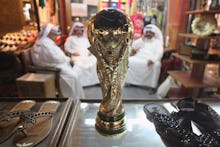 The news: This summer's World Cup in Brazil has been marred by controversy, from transportation and police strikes to construction delays, drug and gang violence, forced evictions, allegations of police brutality and widespread public demonstrations against the event. Yet against all odds, it's scheduled to kick off later this week.
Across the globe, the World Cup in Qatar won't take place for another eight years. While that should be enough time to complete construction and handle safety issues, the staging of the event itself is being called into question as allegations of corruption and bribery continue to surface, affecting not only Qatar's image, but the institution of world soccer itself.
What is going on? Corruption charges came out last week when the U.K.'s Sunday Times published leaked documents purportedly establishing a money trail between international soccer organization FIFA and Mohamed Bin Hammam, a former high-ranking soccer official in Qatar. The paper estimated that slush funds were used to pay around $5 million to FIFA execs.
Mohamed bin Hammam. Image Credit: Getty
Since then, FIFA has had to address the allegations head-on. While Qatar's bid committee had denied "all allegations of wrongdoing," FIFA Vice President Jim Boyce has indicated that he would be open to a re-vote if the corruption charges can be proven. The organization's independent ethics investigator Michael Garcia has already started inquiries into Qatar's behavior, as well as Russia's bid for the 2018 World Cup.
Money talks. While some international politicians have welcomed the investigation, other groups have been slower to condemn Qatar and FIFA. Five of the soccer organization's six corporate sponsors  — Adidas, Coca-Cola, Visa, Sony and Hyundai/Kia Cars — have publicly commented on the ongoing situation, urging patience and deliberation though calling for a "thorough investigation" of the charges. Emirates declined to release a public statement.
Consensus seems clear among the sponsors that have responded to the allegations against FIFA: While they welcome an investigation, they are more concerned about the future of the World Cup — and their ties to world soccer.
"The negative tenor of the public debate around FIFA at the moment is neither good for football nor for FIFA and its partners," Adidas said in a statement.
Coca-Cola agreed. "Anything that detracts from the mission and ideals of the FIFA World Cup is a concern to us," a company statement read. "But we are confident that FIFA is taking these allegations very seriously and is investigating them thoroughly through the Investigatory Chamber of the FIFA Ethics Committee."
Other problems: It's a telling sign that corruption is not the worst of Qatar's World Cup problems right now. The country's dismal safety record has been slammed by human rights organizations, which argue that migrant workers from developing regions of South Asia — Nepal, India, Bangladesh, etc. — find themselves in Doha in conditions akin to "modern-day slavery." Around 4,000 workers are estimated to die before the World Cup, which would make it the deadliest sporting event in history.
But FIFA, which awarded the World Cup bid to Qatar despite labelling it a "high-risk" option, is continuing to turn a blind eye to these human rights abuses. "This feudal system existed [in Qatar] before the World Cup," FIFA exec Theo Zwanziger said in February. "What do you expect of a football organization? FIFA is not the lawmaker in Qatar."
Indeed, it seems like a lot to ask for transparency and accountability from the single biggest sporting event in the world. FIFA's slogan may be "for the good of the game," but what about the good of everything else?