Psy's New Song Is Going Viral and It's a Complete Disaster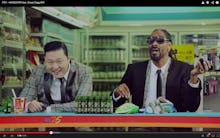 Last week, "Gangnam Style" broke the historic 2 billion view mark on YouTube. That probably should have signaled to us all that we should find better things to do with our time. It seems, though, that Psy isn't quite ready to let us move on.
The South Korean pop sensation has returned with a new track called "Hangover." It's got goofy, loosely choreographed dance moves, catchy lyrics about alcohol and a lengthy contribution from rap institution (and occaisional Redditor) Snoop Dogg. It is, in a word: terrible.
First, Psy gets no points for originality. It's almost an exact reenactment of "Gangnam Style" which he already reenacted with last year's "Gentleman."  It has all the same terrible suits, silly dance moves and set pieces. Just swap out the parking garage and horse stable for a fluorescent-lit billiard room and unassuming noodle bar, and it's actually the same video.
Defenders of Psy's artistic merit typically focus on his subversive social commentary. "Gangnam Style" targeted the material excess of the exclusive Gangnam district's culture. This time, Psy is ostensibly mocking South Korea's excessive drinking culture. Lily Kuo wrote on Quartz that "It seems pretty obvious the Korean rapper's new song is meant to be another underhanded satire of consumer culture in South Korea." But it's not obvious at all.
Psy's actual relationship with alcohol is similarly difficult to pin down. This is, after all, something of a party anthem and does celebrate drinking culture. Since the video's release, he's spoken openly about his time partying with Snoop on set. Even before the video, Psy's own public stance has repeatedly been pro-alcohol and partying. In a Sunday Times profile addressing his alcoholism, he refers to soju, a Korean vodka that more or less drives the video's antics, as being his "best friend." 
"If I'm happy, I'm drinking, if I'm sad, I'm drinking. If it's raining, I'm drinking, if it's sunny I'm drinking. If it's hot, I'm drinking, if it's cold, I'm drinking," he's quoted as saying.
That may well be a cry for help, but it's still hard even to claim that this song has any real message given his public advocacy for alcohol. Here he is demonstrating 13 different ways to take a shot:
The arguments for socially conscious music don't really hold, then. Psy is seemingly intent on using one of the biggest platforms in music to do very little. Some critics have argued that his unprecedented international success is due largely to his perfect performance an "Asian clown" — he's a non-threatening, goofy representative of the race. If that's the case, it's a role that Psy keeps returning to.
There is, in fact, more to Psy than his viral video veneer, but his character is so all-encompassing that those rare moments when we see through the clowning are shocking. For example, in 2012, Psy's "Christmas in Washington" performance was almost canceled when a 2002 clip of him singing the following troubling lyrics came to light:
"Kill those fucking Yankees who have been torturing Iraqi captives
Kill those fucking Yankees who ordered them to torture
Kill their daughters, mothers, daughters-in-law and fathers
Kill them all slowly and painfully"
The lyrics are troubling, but they were a form of protest. That's because Psy has a lot to say. The man is a complex, inscrutable figure and a Berklee-trained musician. But with all of the commercials he's done, and with his new position as South Korea's tourism ambassador, he's more or less locked himself into a goofy and inoffensive persona. And as the "Hangover" video proves, he's running out of places to go.