Mic Check — Welcome to the United States of Gun Violence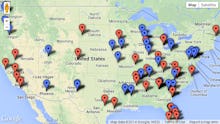 THE AGENDA 
Republicans just suffered one of the biggest primary upsets in history: House Majority Leader Eric Cantor of Virginia was defeated on Tuesday in the Republican primary to David Brat, an economics professor at Randolph-Macon College and a political novice who flew under the radar of virtually every political observer in the Acela corridor. Brat, a Tea Party favorite, spent $122,000 to Cantor's $5 million and was so unknown that his Wikipedia entry was only two sentences before Tuesday night.
MATTERS OF DEBATE
How much does right-wing rhetoric contribute to right-wing terrorism? The Washington Post's Paul Waldman ponders the source of the anti-government rage that was the impetus for this weekend's police Las Vegas shooting: "It may be going too far to say that conservative politicians and media figures whose rhetoric has fed the deranged fantasies of terrorists and killers have blood on their hands. But they shouldn't have a clear conscience, either."
MARVELS
"Calls to 1-900-MIX-A-LOT on Tuesday could not be completed as dialed." [New York Times]
Mic Check is 4.5 cl bourbon whiskey, 2 dashes Angostura bitters, a sugar cube and some links served over ice by Jared Keller. Did we miss something you wanted to read about? Want to see us focus on an under-covered issue? Have a tip for the next edition? Email jared@policymic.com.