Republicans Just Suffered One of the Biggest Primary Upsets in Congressional History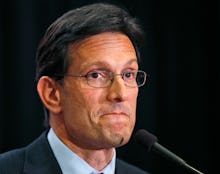 This is big: The second-ranking House Republican, Eric Cantor of Virginia, was defeated Tuesday in the state primary to a political novice who flew under the radar of even the most expert political pundits. 
America, meet David A. Brat, an economics professor at Randolph-Macon College who spent less than 3% of what Cantor did in this primary. This guy is the very definition of an underdog.
The New York Times called it "one of the most stunning primary election upsets in congressional history."
The defeat was sound; the race wasn't even close. The Associated Press called the election for Brat about an hour after polls closed at 7 p.m. ET, winning 56% of the votes to Cantor's 44%.
How big is this in the American political world? Brat just completely changed the U.S. political landscape. Cantor was widely seen as the  next in line to succeed House Speaker John Boehner (R-Ohio). The Virginia Republican was even touted as a possible 2016 presidential contender.
The twist? Cantor was an ideological Republican pushing a hard conservative agenda at a time when the Republican Party is soul searching, choosing between either more moderate or far-right policies — and he was defeated by an even harder conservative Tea Party Republican. 
"The death of the Tea Party has been greatly exaggerated," wrote conservative site Red State, in an almost sinister tone foreshadowing the birth of a new age of far-right conservatism. 
Talk about an upset: Brat raised $200,000 in campaign funds compared to Cantor's $2 million. Brat spent $122,000 to Cantor's $5 million. Brat was so unknown that his Wikipedia entry was only two sentences before Tuesday night.
Here's some more history: 
Almost no Republicans had predicted Cantor would lose, with many following the election to see how broad Cantor's margin of victory would be.
Why did Cantor lose? Brat ran his underfunded campaign on false pretenses. He claimed that Cantor supposedly supported comprehensive immigration reform, a policy President Barack Obama had championed. But — and this is rich — Cantor has for months been seen by immigration reform advocates as the key roadblock to House legislation for immigration reform.
It likely goes deeper than immigration, though. As Red State explains "[Cantor] and his staff have repeatedly antagonized conservatives. K Street, the den of Washington lobbyists, became his chief constituency. In Virginia a couple of months ago, several residents of Cantor's district groused that they were going to support Brat because they did not think Cantor was doing his job as a Virginia congressman. Others no longer trusted him. Cantor and his staff both lost the trust of conservatives and constituents. They broke promises, made bad deals, and left many feeling very, very betrayed."
What this means: Cantor's defeat will reverberate in the capital and will likely have major implications for an immigration overhaul. Expect the GOP to take a firm stand against the issue, with other Republicans falling into lockstep against the measure. 
It's also an ominous sign of how divided the GOP is. Only weeks ago, Senate Republican Leader Mitch McConnell easily dispatched a Tea Party primary challenger in Kentucky, a win which some thought might signal the end of Tea Party antagonism against incumbent conservative politicians.
But Brat's surprise victory has stunned political observors and, by ousting a high-ranking Republican like Cantor, has thrown the House GOP leadership into "chaos." Brat's win proves that a deep red streak still runs through the conservative base. That base will push the GOP further right, especially as we near the midterm elections in November. 
This conservative base likely will also demand a counterweight against Obama, especially as he has recently used executive action to bypass Congress. Conservatives want to make Obama hurt.
In short: more gridlock in Congress, more Republican push-back against anything Democrats do.