Obama Just Said What We Were All Thinking About Mass Shootings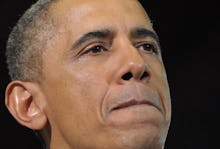 The quote: "The country has to do some soul searching about this," President Barack Obama said. "This is becoming the norm and we take it for granted in ways that, as a parent, are terrifying to me."
Obama has long made his stance on gun control clear — but this is arguably the angriest and most frustrated he's been about it in public.
Hours after another deadly school shooting Monday in Oregon, Obama spoke about the need for gun reform during a Q&A with Tumblr founder David Karp. Blasting Congress for being unable to pass even a watered-down gun control law, the president did not mince words as he claimed that Washington should be "ashamed" for its inaction.
Obama specifically pointed out that Congress was unable to capitalize the national momentum after the Newtown, Conn., shooting in 2012, which he called "the worst day" of his presidency.
"I will tell you, I have been in Washington for a while now. Most things don't surprise me. The fact that 20 6-year-olds were gunned down in the most violent fashion possible and this town couldn't do anything about it was stunning to me," he said.
Watch the president's response below:
The national crisis: Obama is not being hyperbolic when he talks about the wide prevalence of gun violence across America, especially in schools. According to the gun control advocacy group Everytown for Gun Safety, there have been 74 school shootings across the country since the Newtown tragedy — that's one school shooting every seven days.
Image Credit: Twitter/Mark Gongloff
And while a variety of factors — mental health, for one — contribute to gun violence, Obama argued that shooters wouldn't be able to cause so much damage if they had restricted access to guns.
"The United States does not have a monopoly on crazy people. It's not the only country that has psychosis," he said. "And yet we kill each other in these mass shootings at rates that are exponentially higher than anyone else. Well, what's the difference? The difference is that these guys can stack up a bunch of ammunition in their houses, and that's sort of par for the course."
The political quagmire: The defeat of last year's bipartisan measure for mandated background checks on gun sales has been a colossal failure for the Obama administration. And while Obama announced executive actions to strengthen federal background checks for gun purchases, he admitted that they were not enough to truly reform gun laws. In order to do that, the public needs to pressure lawmakers to do something.
"The only thing that is going to change is public opinion. If public opinion does not demand change in Congress, it will not change," Obama said.
Even now, public opinion is still a problem. According to an Associated Press-GfK poll in December, barely half of Americans thought that U.S. gun laws ought to be stricter and 15% said they should be less strict. That's far from the overwhelming majority that Obama needs to overwhelm the gun lobby's influence, making it unlikely for lawmakers — in an election year, no less — to do anything substantive about gun reform in the immediate future.