The Seedy Truth Behind How Walmart and Costco Bring You Fresh Produce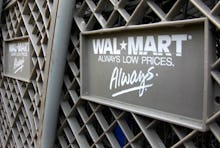 The news: The next time you are at big retailer Walmart or wholesale store Coscto, you may want to rethink buying shrimp or prawns. A new investigation found evidence that enslaved workers are the backbone to the global shrimp supply chain that supplies these retailers. 
A six-month long Guardian exposé unearthed brutal working conditions, non-existent wages, and men being bought and sold to work on fishing ships off the coast of Thailand. Many of the men are held against their will and forced to work under the threat of death and violence.
The enslaved men help to get fishmeal that is bought and sold by Thailand company Charoen Pokphand (CP) Foods. The fishmeal feeds CP's farmed prawns, the world's largest shrimp farmer. And often times, that shrimp is exported to U.S. and European retailers including Walmart, Costco, Carrefour and Tesco.
Harsh conditions: In the investigation, some escaped men said that they were bought and sold like animals, suffered regular beatings and witnessed "execution-style killings." Some were even encouraged to use methamphetamines to continue working. 
A lot of the slaved men are foreigners. Many migrant workers paid brokers hoping to find work in Thailand factories. Instead, brokers sold the men to boat captains for as little as $400.
"I thought I was going to die," a Cambodian monk told the Guardian. "They kept me chained up, they didn't care about me or give me any food. … They sold us like animals, but we are not animals — we are human beings." 
Another man claimed that he had watched on as 20 fellow workers were killed right in front of him in the ships. 
CP Foods admits that slave labor is involved in getting frozen and and cooked shrimp to Walmart and Costco customers.
"We're not here to defend what is going on," UK managing director Bob Miller said. "We know there's issues with regard to the [raw] material that comes in [to port], but to what extent that is, we just don't have visibility."
Though this is not the first time that the Thai fishing industry has been accused of using slaves, the new investigation provides a clear lineage between produce that appears in U.S. and European supermarkets and slave labor. 
Modern-day slavery: While many Americans may see slavery as a thing of the past, there are actually around 21 million people in the world enslaved. Between 14,500 and 17,500 people are trafficked right here in the U.S. every year. And 120 from 58 countries stem from slave labor even though it is illegal in every country in the world.
Image Credit: Agence France-Presse
Thailand's migrant workers play a major part in those figures, where an estimated half a million people are being held captive and forced to work. According to the Guardian, "The Thai government estimates that up to 300,000 people work in its fishing industry, 90% of whom are migrants vulnerable to being duped, trafficked and sold to the sea."
All the key players involved in the investigation denounce slavery.
"We are actively engaged in this issue and playing an important role in bringing together stakeholders to help eradicate human trafficking from Thailand's seafood export sector," Walmart said.
And Costco added, "We are committed to working with our suppliers of Thai shrimp to require them to take corrective action to police their feedstock sources with respect to poor labor practices. This commitment so far has involved visits by our buying staff to Thailand and discussions with the Thai government, our suppliers and other industry participants."
CP Foods said in a statement that they are interested in using their commercial presence to influence the Thai government in regards to the slavery. And the company is also working on a plan to use alternative proteins to feed the prawn farms, so they can stop using the fishmeal produced from slaves. 
In the meantime, while we wait for CP Foods and the Thai government to put an end to these global injustices, we can all lay off buying shrimp for the time being. After all, there are a lot of other fish in the sea.