14 Iconic Solos That Showcase Jazz Music's Incredible History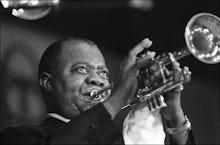 In a recent study at Johns Hopkins, jazz musicians improvised with each other while sitting in MRI machines. No doubt many of them were used to playing in tight spaces, but this was, all the same, odd.
What the study found, though, was even odder: Jazz improvisation is rooted in the same places of the brain as spoken language. When musicians play with each other, for us, they're actually communicating just as intentionally as if they were speaking English.
Jazz is arguably the truest American music. It has shaped the greatest moments of our history, our legends and our dinner parties. This study, then, revealed something we knew to be true: Jazz is a universal language, the great American glue. Indeed, some of the greatest jazz improvisations have been just as eloquent and expressive as the most renowned poems or speeches in history, and they're just as important to know.
But if jazz musicians are one thing, it's prolific. Here, then, are the 14 iconic jazz solos that tell the history of jazz — and the last American century.
1. "West End Blues" by Louis Armstrong (1928)
The larger-than-life trumpeter was a celebrity, to be sure, but in the 1920s, being a celebrity didn't exactly mean being Kim Kardashian. Armstrong was famous because he was musically years ahead of his contemporaries.
In an era of much simpler jazz, Armstrong's modernization of the blues, unique phrasing and melodic instincts set the tone for pretty much the rest of jazz history.
According to famed jazz critic Gunter Schuller, "The clarion call of 'West End Blues' served notice that jazz had the potential capacity to compete with the highest order of previously known musical expression." Then it did.
2. "Tea for Two" by Art Tatum (1939)
In the 1930s, jazz was still a popular music that was broadly disdained by its classical counterparts. It needed a technical master to prove its legitimacy as an art form.
Tatum, a blind Toledo pianist, answered the call. His ridiculous speed and strength more often than not sound like two pianos, not one. "He plays so much piano it sounds impossible," marveled fellow jazz pianist Eddie Heywood. And "Tea for Two" shows him at his nimblest. It's packed with magnificent, rapid forays that span the length of the piano. This is the definition of virtuosity.
3. "Body and Soul" by Coleman Hawkins (1939)
Hawkins may not be quite as well known as Bird or Miles, but he was an ultimate musician's musician who had as large an impact on improvisation as anyone in jazz's history.
Even Miles Davis agreed. "When I heard Hawk, I learned to play ballads," he claimed. "Body and Soul" is the standard bearer of all ballads; Hawk's mellow tone and breathtaking lines seem to flow effortlessly out of his horn, resulting in a record you could slow dance to all night. This is the basis for a whole lot of the (less good) slow jazz you hear at restaurants now.
4. "Flying Home" by Illinois Jacquet (1942)
Nothing would be the same after saxophonist Jacquet cut loose on this Benny Goodman classic in 1942. Forget tact or melody — Jacquet pounded away on one triumphant, rollicking note, essentially creating the R&B saxophone solo in the process (a form Clarence Clemons would later perfect with Bruce Springsteen and, way later, Lady Gaga).
His honking tone, brassy bravado and simple, powerful bluesy licks would set the tone for every saxophonist in rock or R&B, from Clemons to LeRoi Moore. They knew it, too. 
"He was a cutting edge saxophone player. He knew that horn," remembered saxophonist Benny Golson.
5. "Ko-Ko" by Charlie Parker (1945)
Parker's "Ko-Ko" may not be pleasant on first listen. "The first time you hear it it's like somebody dumped a bucket of ice water over your head," said jazz writer Gary Giddens. But that was part of the point. "Ko-Ko" attacked the Jacquet model of jazz-as-dance-music and in the process elevated jazz to an even higher plane, setting the stage for some of the most famous 1950s be-bop.
This music was way too fast to swing too, its blistering runs too complex. This was a record to be scrutinized, re-winded, replayed, transcribed and replayed again. And still you wouldn't understand it.
6. "The Eternal Triangle" by Sonny Rollins and Sonny Stitt (1957)
Long before guitar duels or rap battles, Rollins and Stitt faced off against each other in one of the greatest heavyweight smackdowns of all time. The two tenor saxophonists, both legends at the time, bar no punches in this 14-minute epic.
In fact, their differing approaches to improvisation would create an ideological divide that would continue to influence musicians 50 years later. The question remains, though: Who won, though, in that studio in 1957?
7. "Peace" by Ornette Coleman (1959)
Coleman's title for his 1959 album, The Shape of Jazz To Come, was downright prophetic. His, which would come to be known as free jazz, had minimal structure and no written charts.
"He was accused of arbitrarily breaking the rules of jazz when he was actually returning to a point when jazz had fewer rules," NPR wrote in 2006. "Peace" is a sublime example of this mental unshackling. In some ways, it's one of the last great classics of jazz's golden age — it remains etched in our memories as a sign of what jazz can do.
8. "So What" by Miles Davis (1959)
This is quite possibly the most famous recording in jazz history, and for good reason. Its beauty lies in its stark minimalism. The song is an open canvas for three jazz legends (Davis, John Coltrane, Cannonball Adderley) to fill.
Davis' concise, singable trumpet solo is a masterpiece in modalism and a rite of passage for every aspiring jazz musician.
"It must have been made in heaven," said drummer Jimmy Cobb. Ask any jazz trumpeter — they will know how to play this solo.
9. "Rhythm-A-Ning" by Thelonious Monk (1963)
Monk's music was just as odd as the man himself. He would often get up from the piano during concerts to spin in circles. On "Rhythm-A-Ning," Monk took a standard four-chord progression called rhythm changes, an integral part of jazz since the time of Gershwin, and reinvented and refigured not only the music but the whole approach to improvisation.
Whereas Tatum and Hawkins had excelled in fluid runs, Monk worked in clusters and stabs, approaching the piano as a percussive instrument and finding ways of playing chords like no one had heard them before.
10. "Resolution" by John Coltrane (1965)
There's probably no better example of spirituality through music than Coltrane's A Love Supreme, a four-part suite devoted to God. The second section, "Resolution," is particularly rife with furious passion and reverence.
"The intent is so pure and the feeling is so pure, you just feel that Coltrane is laying his soul out," said saxophonist Joshua Redman, a leader of newest generation of jazz idols. Jazz's popularity came and went, but Coltrane made something timeless.
11. "Four on Six" by Wes Montgomery (1965)
The guitar more often than not played a supporting role in jazz before Montgomery's rise. His tone and techniques, especially on his seminal live album Smokin' At the Half Note, would be copied over and over. Current legend Pat Metheny called him the "father of modern jazz guitar" and said that he learned to play guitar by listening to the album.
12. "Captain Senor Mouse" by Return to Forever (1973)
Jazz's so-called golden era in the late '50s was well finished by the early '70s. In its place arose an innovative and constantly evolving scene of musicians drawing from many different genres and influences.
The fusion group, Return to Forever, led by slick pianist Chick Corea, injected its music with electricity (literally), fervor and psychedelia. Corea's solo on "Captain Senor Mouse" wouldn't sound too out of place on a Yes album, and it set a modern standard for jazz crossovers like Thundercat.
13. "Butterfly" by Herbie Hancock (1974)
Hancock has been constantly pushing the boundaries of jazz over his 50-year career. In the early 1970s, when jazz was becoming increasingly abstract and inaccessible (thanks, in part, to Corea), Hancock pulled his group back in toward the mainstream. He fused jazz improvisation with modern funk.
With "Butterfly," Hancock takes a groove more suited to the bedroom, and embellishes and sends it to another dimension, proving that jazz wasn't just for the club or the concert hall. 
14. "Hide and Seek" by Joshua Redman (1996)
Redman's register-hopping, seemingly physically impossible intro speaks for itself. It is a hallmark of technical excellence and a pure joy to listen to. It's the perfect culmination of all the history that's come before him — it shows that the newest generation of jazz greats are, to some extent, historians. If you listen, you'll find Coltrane between the notes.
He's a member of a younger generation carrying the torch on, exploring fresh techniques and sounds while still paying tribute to the old guard. Jazz will never die, but it'll always be following the changes.