The Horrific Story of Oklahoma's Botched Execution Just Got a Lot Worse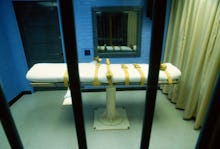 The news: The body of Clayton Lockett, who died April 29 after his execution was botched, was recently returned from an autopsy — without his heart or larynx. His execution never should have failed in the first place, and the arrival of his body without two major organs is yet another chapter in this strange, sad tale.
The Dallas County Medical Examiner's Office, which was brought in by Oklahoma officials to assist in the investigation, are now in possession of the body parts. Amy Elliott, a spokeswoman for the Oklahoma Medical Examiner's Office, says the practice is not uncommon. However, that doesn't make it any less bizarre or cringe-inducing, particularly in light of the lack of humanity with which Lockett met his end.
Lockett's attorney said a private doctor is finishing his analysis of a second autopsy ordered by the family. His body — sans heart — was recently returned to them and cremated.
Image Credit: AP
The background: The uproar that surrounded Lockett's execution was intense, and much of it was warranted. Horror stories emerged from witnesses watching the execution: His violent physical reaction even after having been declared unconscious; the pain that he appeared to be in. The cause soon emerged: He was not given enough of one of the three drugs that make up with execution cocktail. (He was Oklahoma's first inmate upon which a new method of lethal injection was used.)
A review of the incident has led some to question America's means of execution, which are supposed to be carried out "humanely." One Oklahoma lawmaker even wants to give prisoners the option of death by firing squad, hanging or the electric chair.
Despite the outcry, however, public support for execution hasn't changed much since Lockett's death. According to a Gallup poll, 61% of Americans believe it's morally acceptable, down from only 62% a year prior. (However, it's also at its lowest point in decades.)
The takeaway: This rehashing isn't meant to induce empathy — Lockett was, after all, convicted of shooting and burying a 19-year-old girl alive. But an autopsy never should have been necessary in the first place, as the execution should have occurred cleanly. The fact that they retained his organs would be laughable if it wasn't so outrageous given the events that preceded it.
Public perception didn't shift after the botched execution, so it's highly unlikely that it will change after this. But it may give Americans a refresher on the disturbing incident. It's also worth noting that the exact cause of death, said to be a heart attack, will be released "very soon," according to a spokeswoman. Let's hope his organs were worth the fuss.