These 6 House Republicans Are Now Having a Frank Underwood Moment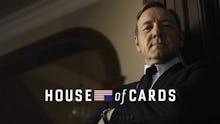 Republicans are lining up to be considered for the House majority leader, leaving little time to eulogize poor Eric Cantor. Politics moves fast, and now that his house of cards has collapsed, it's time for another GOP upstart to build his own.
The race to become the second-most powerful Republican in the House of Representatives may not exactly mimic House of Cards — we can hopefully assume our esteemed members of Congress won't do any of the (SPOILER ALERT: unethical and generally not super nice) things that Kevin Spacey's Frank Underwood has done to climb the D.C. ladder — but it does prove that one of the show's core tenets rings true: Politicians are very eager to take on more power.
Here's a look at some of the most buzzed-about contenders for Cantor's spot, with a rating of one to five Underwoods based on how likely they are to win the coveted position.
Rep. Kevin McCarthy (R-Calif.)
Image Credit: J. Scott Applewhite/AP
McCarthy, from California, is the House majority whip, the exact same position that Underwood started in when the show began. McCarthy tried his hand at delivering one of House of Cards' best lines (though he may not be winning an Emmy anytime soon) and last year he even told reporters that Spacey had called him for help researching the part.
"He keeps calling my office and wants to know if I'll sit down with him. I'm saying no because I know it's not going to turn out well for me, right?" he said. "I start watching this show, and after the first couple of shows, [Underwood's] office starts looking like my office." As for his shot at majority leader, his No. 3 position means he's a natural choice to move up one slot.
Rating: 
Rep. Pete Sessions (R-Texas)
Image credit: J. Scott Applewhite/AP
Sessions, who represents Texas and serves as House Rules Committee chairman, is reportedly "making an aggressive play" to be House majority leader. (His push for the position doesn't seem like much of a secret, but maybe reporters on his trail should stay away from trains for a few days just in case.)
POLITICO reports that Sessions has been calling and emailing lawmakers about the job and also "sent out a mass text message Tuesday night" looking for support. He's got a great résumé: He was chairman of the National Republican Congressional Committee for four years. But doesn't sending a phone, email and text message campaign the very same night Cantor loses seem a little desperate? Plus, there's a chance he'll split the Texas delegation with this next contender.
Rating: 
Rep. Jeb Hensarling (R-Texas)
Image credit: Carolyn Kaster/AP
Hensarling, also from the Lone Star State, told National Journal he was "humbled by the many people who have approached me about serving our Republican Conference in a different capacity in the future" and that he was "prayerfully considering" his options.
The article also said that other Republicans "watched his inbox and cellphone explode Tuesday night" with urgings to run. Those presumably aren't counting the emails and text messages from his Texas colleague Sessions asking everyone to vote for him instead — maybe they need to sit down and hash this out over some BBQ.
Rating: 
Rep. Cathy McMorris Rodgers (R-Wash.)
Image credit: Susan Walsh/AP
The Washington representative, currently the fourth-ranked Republican leader in the House, has been mentioned multiple times for Cantor's position. She has the credentials: In addition to her leadership role, she gave the Republicans' State of the Union response this year.
There's only one problem: She claims she's not interested, saying in a statement Wednesday that she has "decided to remain [House Republican] Conference Chair at this time." Still, with enough support, decisions made "at this time" can change rather quickly.
Rating: 
Rep. Lynn Jenkins (R-Kan.)
Image Credit: Orlin Wagner/AP
Jenkins of Kansas serves as McMorris Rodgers' vice chairwoman on the House Republican Conference Committee. An aide told Fox News that Jenkins would consider taking a leadership position "if an opportunity presents itself." If McMorris Rodgers sticks to her word and stays out of the race to replace Cantor, this might be the very definition of opportunity presenting itself.
Rating: 
Rep. Paul Ryan (R-Wis.)
Image Credit: AP
The Wisconsin representative's name has been thrown around, but let's be real: Like Underwood, he's got bigger fish to fry.
Rating: