Iran's Government Says Women Should Be Thankful They Can't Watch the World Cup In Public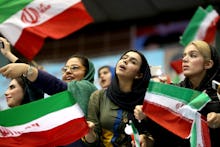 The news: There are many legitimate reasons to boycott the upcoming World Cup in Brazil — but Iran has a thoroughly unique one.
Days before the kickoff of the single biggest sporting event in the world, Iranian police informed café and restaurant owners in Tehran that they will not be allowed to screen the games publicly, not even the ones that feature the Iranian national team. The reason: they don't want men and women to mingle in public.
Why is this happening? This ruling is the Iranian police's latest attempt at crowd control. Recently, authorities also informed owners of mixed-gender theaters that they wouldn't be able to screen the games either.
While these business owners have been vocal about their displeasure, the official stance is clear: they don't want raucous behavior in public, especially if men and women are mingling together. Reports indicate that some café owners even received text messages telling them to close down their businesses by midnight.
This isn't the first time either. Despite the fact that a large number of Iranian couples and families enjoyed public screenings of the 2010 World Cup, authorities started banning women from such events in time for the Euro 2012 soccer games.
"It is an inappropriate situation when men and women watch football in (movie) theatres together," said Bahman Kargar, Iran's deputy police commander in charge of social affairs at the time.
"Men, while watching football, get excited and sometimes utter vulgar curses or tell dirty jokes," he added. "It is not within the dignity of women to watch football with men. Women should thank the police."
Now the measure extends to men as well. While the game will still be aired on Iranian TV,  people won't be able to enjoy the exuberance of a communal viewing experience — and they can "thank the police" for that.