President Obama Just Broke a Major Promise to the American People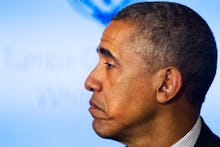 After vowing to scale back deadly drone attacks, the CIA's program just unleashed another strike in Pakistan. It looks like President Obama has failed to deliver on his promises, yet again.
The stealthy drone wars continue with missiles blasted at Pakistani militant hideouts in North Waziristan, killing more than 10 people early Thursday. This is the second suspected drone related attack since Wednesday when three militants in the same tribal areas were also killed — all happening just days after the airport terrorist raid in Karachi.
The president has pledged for more "transparency" and a "turning point" in halting covert counterterrorism post-9/11. A year ago, Obama made a speech implying it was time for moderation and a winding down of the United States' global war on terror started under former President Bush. Obama claimed al-Qaida was "on the path to defeat."
But it is apparent that Obama has failed to address the current targeted killings in Pakistan with news of these two separate drone strikes, making the six-month drone freeze in Pakistan only short lived.
The CIA's drone program attempts to target al-Qaida and Taliban-linked militants near the Afghanistan-Pakistan border, but often times drones end up far off from the bull's eye.
"Less than 2% are high profile targets. The rest are civilians, children and alleged combatants," reported the Guardian's interactive visual on drone strikes. In the last 10 years, more than 350 drones have hit Pakistan and killed more than 3,000 people — not all of which are militant targets, but also civilians.
Human Rights Watch sees Obama's speech as a "sham."
"The strikes have killed hundreds of people, including civilians, and some have clearly violated international law. Yet the US government has long refused to disclose basic information about the program, from its full legal basis to how it identifies targets," writesHuman Rights Watch correspondent, Andrea Prasow.
The drone program does not just target Pakistan and Afghanistan, but Somalia and Yemen as well, where a drone attack actually hit a wedding party and killed 15 people. The exact number of civilians killed in Yemen is uncertain, but up to 132 civilians may have been killed between 2002 and 2014.
The terrorist attacks in Pakistan have also escalated since last week with a fatal airport raid on Pakistan's largest airport in Karachi, where nearly 40 people were killed by gunmen associated with the Islamic Movement of Uzbekistan and the Pakistani Taliban. 
Even so, the average Pakistani civilian views the drone program as a violation of Pakistan's sovereignty and not an effective way to curb terrorism. The drones could in fact be counter-effective and fueling new attacks by terrorists.
It's a nightmare that is certainly far different than the moderate changes that Obama promised after the Bush era. Instead of more hollow promises, it's time for President Obama to be more transparent about the drone program — and to actually follow through with his promises.