40 Years Ago This Week, an Interracial Couple Changed the Course of American History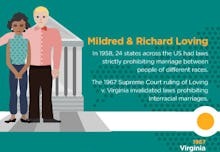 The news: The nice thing about America is that you can marry whomever you want. (Except for when you can't, of course.)
But while the fight for same-sex marriage rages on, a similar battle — equally ridiculous in that it had to happen at all — ended not long ago this week. On June 12, 1967, the Supreme Court reached a decision on Loving v. Virginia, determining that Virginia's ban on interracial marriage was unconstitutional and generally a terrible idea.
To commemorate this victory, PBS made an infographic highlighting the Lovings and other notable interracial unions throughout history. Take a look:
Image Credit: PBS
Image Credit: PBS
Image Credit: PBS
Image Credit: PBS
Nice: The Loving ruling is especially important in light of recent demographic trends. According to the Wall Street Journal, 15% of new marriages between 2008 and 2010 were between people of different races:
Image Credit: Wall Street Journal
The increased frequency of such unions is equally impressive over time:
Image Credit: Pew Research Center
Meanwhile, more than 7% of the 3.5 million children born in 2009 were multiracial, making them the nation's fastest-growing demographic.
Outlets ranging from the Pew Research Center to National Geographic predict these patterns will have drastic implications for America's future. By 2043, for example, current racial minorities will likely overtake white Americans for the first time in centuries, assuming current birthrates and immigration patterns persist:
Image Credit: Pew Research Center
This would all be unthinkable without the Lovings. Richard Loving, a white man, and Mildred Loving, a black woman, were arrested in July 1958 for the heinous crime of getting married while interracial, an act strictly forbidden by Virginia law. Sentenced to one year in prison, the couple fled to the relative safety of Washington, D.C., where they weighed their options to return home.
In 1963, they approached the American Civil Liberties Union, and after years of litigation brought their case before the Supreme Court. The favorable ruling sparked a domino effect, not just in Virginia, but the other 23 states that outlawed interracial marriage at the time.
PBS highlights a number of other couples as well. For instance, Sir Seretse Khama became the first president of Botswana in 1966, but was forced into exile in England 18 years prior for marrying Ruth Williams Khama, a white woman. Even the British government tried (and failed) to stop the marriage.
Yet in today's context, it's also useful to remember that the impulse to bar such unions is rooted in an ugly history of slavery, colonialism and the systemic inequalities and bigotry they fostered. Even today, its legacy persists. One is reminded each time a story arises about a first-ever integrated school prom, or a father who beats his daughter for dancing with a black friend at her quinceñera.
But without legal enshrinement, these attitudes lose a significant portion of their power. The Loving case was vital for this very reason. And unlike other rulings, such as Brown v. Board of Education, the gains made in Loving v. Virginia have not been steadily eroded, but instead grew into a trend that's projected to define the future of our country.
That's no small accomplishment. And if nothing else, it makes June 12 a day worth applauding.