This Brilliant Phone Number Is the Perfect Way for Women to Avoid Aggressive Men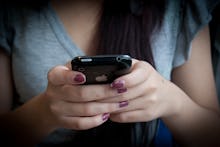 One of the recurring themes to emerge from the #YesAllWomen hashtag, which sprung up after the Isla Vista, Calif., shooting in May, was the fear — of unpleasant harassment, of physical violence — women feel when declining a man's sexual advances. In an effort to raise awareness of this very serious issue, a Tumblr called When Women Refuse was started to document news stories and personal anecdotes of women who get beaten up, shot at or even killed after rejecting a man's advances.
The conversation also reignited the debate over whether women should use the excuse, "I have a boyfriend" when saying no to a man. Rebutting a 2013 XOJane column by Alecia Lynn Eberhardt, which suggested that women delegitimize their own agency when they hide behind this excuse instead of saying "I'm not interested," Eliana Dockterman argued in TIME that the boyfriend explanation is just a more efficient way to get a man off your back. As Amanda Hess explains in Slate, "Aggressive men are more likely to defer to another man's domain than to accept a woman's autonomous rejection of him."
But a new service is angling to help out women worried about how their rejection will be handled by overly-aggressive gentleman callers. It's called the Feminist Phone Intervention, and it's a brilliant trick for socially active.
It works like this: The next time you give a man your number to get him to leave you alone, use this one: (669) 221-6251. When someone calls that number, they'll reach a computer-recorded message of a bell hooks quotation — so you can "protect your privacy while dropping some feminist knowledge when your unwanted 'suitor' calls or texts," the website explains. It works for texts, too. 
Image Credit: Bitch Media
"The idea came to me after the NY Post printed bikini photos of the woman who 'spurned' Elliot Rodger. Despite the fact that she was only 10 years old at the time they met, she was portrayed as having romantically rejected Rodger," Feminist Phone Intervention's creator told the Hairpin in an anonymous email. "The idea is to pass that [number] off as one's own number if you're in a dicey situation, afraid to give out your personal cellphone number or outright reject somebody."
The Feminist Phone Intervention gives some more reasons for its existence on its website, too. 
Image Credit: Feminist Phone Intervention
So far, the response to the service has been so positive, and the founder is hoping to be able to expand the service to include a Gmail account that auto replies with the message, "Thank you for your note. However, I am away on vacation — from the patriarchy." 
Until that time, however, you're now armed with your updated going-out checklist: phone, keys, wallet, (669) 221-6251 and of course, bell hooks.
Image Credit: Getty