Insurgents Are Posting Bizarre Instagram Pictures From Iraq and Syria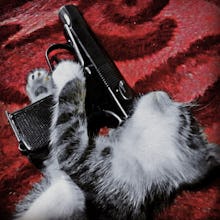 As the Sunni insurgent group Islamic State of Iraq and Syria (ISIS) takes hold of Iraq to hold mass executions and fuel sectarian violence, it feels as though the world is getting flashbacks of the initial American invasion of the country.
But now, we have social media to offer a fascinating and unexpected look at the conflict on the ground. Several ISIS members and affiliated jihadist fighters in Iraq and Syria have taken to Instagram and Twitter to post photos of their daily life. The casual use of filters and hashtags creates a jarring juxtaposition with the disturbing nature of these pictures. As strange as they may be, they offer insight into the life of the mujahideen — as well as their social media followers.
(h/t Buzzfeed)
1. Action shots
"Spray, pray and suppress. #mujahideen #jihad #syria"
2.
I"No man's land. #aleppo #mujahideen #jihad"
3.
4.
5. Name in bullets
6.
7. Downtime
8.
9.
10.
"A new chapter in my journey here in Syria. Still alive, still running around. Alhamdulillah. More coming soon!#bigeyes #jihad #mujahideen"
11. The bare necessities
12.
13. And a lot of cat pictures
"He stayed with the Mujahideen for a couple of days and got excited. #catsofjihad #mujahideen#sleepingbeauty"
14.
15.
16.
17.