Relations Between Iran and the West, Summed Up in One Viral Picture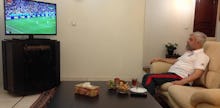 The news: On Monday, Iran's President Hassan Rouhani posted this photo of himself on Twitter.
It closely resembles a photo U.K. Prime Minister David Cameron posted in 2012:
This isn't just about the World Cup: Rouhani's affectionate parody of Cameron is a reflection of just how much Iran and the U.K. are warming up to one another, especially since the photo from Iran's president appeared on social media right before Britain announced plans to reopen their embassy in Tehran "within months."
This is a breakthrough development in the effort between Iran and the West to stabilize the crisis in Iraq. The U.S. has already agreed to cooperate with archrival Iran as terrorist group ISIS threatens the geopolitics of the Middle East. With Tuesday's news, the U.K. is quickly following suit.
The backstory on U.K./Iran relations: In 2011, Britain severed diplomatic relations with Iran after activists stormed the embassy in Tehran. Iran elected President Rouhani in 2013 to replace the uncompromising Mahmoud Ahmadinejad, paving the way for a less stringent approach to politics.
Under Rouhani's leadership, there has been "progress in international talks on Iran's nuclear program," according to the New York Times. Tuesday's announcement from Britain has raised hopes that the international community will now be able to secure an agreement over the disputed nuclear program.
The takeaway: Rouhani's picture was quickly picked up and retweeted by thousands of people. In it, he plays the role of the common man, a stark divergence from how he typically appears in public, in traditional garb. Critics have often lambasted the Rouhani for not supporting or encouraging one of the country's most beloved sports.
David Cameron's photo could be understood as a similar public relations ploy. After being urged to watch the 2012 Olympics from home (he was jinxing British athletes at the events he did show up for), Cameron's PR team tweeted the pic. At the time, he was watching Great Britain's Nicola Adams become the first woman to win the gold in Olympic boxing.
Cooperation between Iran and the West over the Iraqi conflict has not been completely spelled out. But the message behind Rouhani's Twitter pic is pretty clear: Iran and the U.K. are on friendlier terms.