If You Loved Watching Team USA Beat Ghana, Here's Who You Should Thank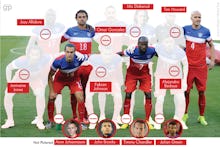 Tim Howard.
Jozy Altidore.
Jermaine Jones.
Fabian Johnson.
Omar Gonzalez.
Alejandro Bedoya.
Mix Diskerud.
Aron Johannsson.
Timmy Chandler.
Julian Green.
John Brooks.
But there's one thing each of these players has in common: Their immigrant heritage.
The United States could field an entire starting lineup of players who are foreign-born or first-generation immigrants.
Image Credit: Simran Khosla/GlobalPost
GlobalPost analyzed what World Cup teams would look like if players were forced to play for the country they or their parents were born in. Monday's result would have been much different — the U.S. would be without all 11 players listed above, while Ghana would be even more stacked (German defender Jerome Boateng's father was born in Ghana, as were Italian striker Mario Baloteli's parents).
Image Credit: New York Magazine
So as you watch John Brooks' game-winning goal again (as doctors recommend you should at least three times a day until the U.S. team plays Portugal on Sunday), remember that without our melting pot, he may not have even been there to head the ball in.
Choosing your country: Despite frequent anguish from fans, FIFA's rules on nationality are among the few parts of the massive organization that aren't completely terrible. A player can choose a national team based on their place of birth, place of citizenship or even the place of birth of a parent or grandparent.
Things can, however, get a little strange. Deadspin highlights the story of Tony Cascarino, who was born in England to Italian parents, but ended up playing for Ireland because his grandfather was born there. (It turned out later his grandfather had adopted his mother, putting that nationality in doubt.) And some choices can seem cynical — see the rumors that Julian Green was offered a spot on this year's World Cup squad in exchange for him picking the U.S. ahead of Germany as his home country.
But when it comes to something as personal as what country you call home, a lighter touch is a welcome change from most of FIFA's rules. Do you really want this organization telling players where they can and can't be from?
Thank immigration: In its own way, the World Cup might be a sneaky advertisement for the U.S. to pass comprehensive immigration reform. For U.S. soccer, the more soccer-obsessed folks who want to move to America, the better.
Despite the support from some Republicans, such reform still seems far off in this polarized Congress. Maybe if GOP representatives catch the patriotic soccer bug, it'll seem a little more likely. After all, who wouldn't want a U.S. team with all 11 of those players?
Besides poor Landon Donovan, that is.