The Tampon Commercial Every Woman Wishes She'd Seen as a Kid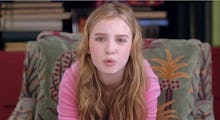 When it comes to the way women talk about their periods, it's a brave new world out there.
Bodyform was one of the first companies to lead the pro-period charge, exposing the blue liquid myth in a hilarious commercial that mocked the the general beffudlement men seem to have about feminine hygiene. Then Kotex joined the trend, dispelling the idea that women actually like to hang out in white spandex onesies during their period.
Now Hello Flo is revealing what it actually feels like to ride the crimson tide for the first time. The company that delivers care packages for women on their periods wants to fundamentally change the way Americans talk about and treat their periods. Rather than dread that time of the month, Hello Flo's philosophy suggests women should celebrate it — or at the very least, tolerate it.
Hello Flo's latest commercial tells the story of a young girl so impatient to get on the rag that she fakes it. But while the glitter nail polish might convince her friends, mom's not buying it. Instead of grounding her for lying, however, this wise mother throws her daughter a moon party to celebrate the visit of Aunt Flo. And it's honestly pretty amazing (two words: uterus piñata).
Other amazing party perks showcased in the video are menstruation-themed chocolate fondue, glorious tampon earrings, amazing underwear garlands and a "bobbing ovaries" game. It really makes one wonder if Hello Flo should get into the business of throwing parties.
When asked what inspired her to make the video, Hello Flo founder Naama Bloom told Mic that she got the idea from an anecdote sent to her by a stranger.
"About 10 months ago I got an email from a single dad who threw a small dinner for his daughter when she got her period," Bloom said. "He had all the women in her life, grandmother, aunts, close friends, take her out and celebrate her. I thought the story was so sweet, so I posted about it on the HelloFlo Facebook page. Most people thought it was sweet, some said they'd be mortified and others mentioned having had similar parties. So I started investigating and learned that First Moon Parties are a thing." And that's when Bloom and her directors started brainstorming ways to make it funny and relatable. 
Can commercials like this one change the way we see periods forever? At the very least, it's a step in the right direction. Changing the way Americans talk about periods — demystifying the experience and eradicating any shame involved — may someday lead to women and girls not having to hide tampons and pads in their sleeves and avoid eye contact when they buy sanitary supplies from a male cashier. Or maybe employers will start stocking their bathrooms with pads and tampons. Hey, a girl can dream.
What do you think about the Hello Flo ad? Let me know what you think on Twitter and Facebook.
Image Credit (all): YouTube