What T-Mobile's CEO Just Said About Verizon and AT&T Was Extreme, Even for Him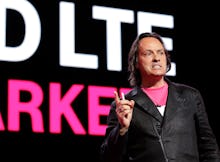 The shocking quote: "These high and mighty duopolists … are raping you for every penny you have … the f*ckers hate you."
This startling line came from T-Mobile CEO John Legere during the company's press event Wednesday. Legere's profanity-laced dig at Verizon and AT&T isn't out of character for the CEO, who loves to use curse words as a way to connect with his employees, nor is it totally wrong.
While the language is inexcusable, these two big carriers do indeed have a long history of screwing us over.
AT&T and Verizon have long stood on a platform to monopolize the cellphone business. And as — far as their cable and Internet coverage goes — these two companies aren't even giving you what you pay for.
Shots fired in the cellphone war: Legere has always gone for the extreme. He got kicked out of an AT&T party earlier in the week after crashing it. And he is building up a reputation for making off-the-cuff remarks. While it's difficult to condone equating AT&T and Verizon's treatment of their customers to rape, Legere's comments have some truth to them.
Harsh criticism about Verizon and AT&T's hidden fees and impossible-to-break contracts are affecting the overall mobile market.
T-Mobile was the first big carrier to stem off from the contract-based model of buying phones. Their customers have the freedom to buy mobile devices separate from their wireless plans (i.e. customers don't have to wait two years to upgrade to the newest model).
Hurrying to catch up, AT&T and Verizon have offered price cuts in mobile packages ever since T-Mobile's approach became a viable adversary in the market.
But even price cuts can't override the continuing practice of exclusivity deals between mobile carriers and products. These deals are a harbinger of failure and limit the consumer's options, as well as limit the market. Amazon just released their highly anticipated phone Fire with exclusive rights to AT&T, and Legere wasn't the only one upset by the news.
It's not just phones: Meanwhile, the U.S. government just released a report that details how AT&T and Verizon DSL customers aren''t getting the broadband speeds promised by the companies.
For instance, only 50% of Verizon DSL customers get "at least 92% of their advertised speeds and 90% of customers received at least 50% of their advertised speeds," reports ArsTechnica. "That means," the article continues, that "10% of customers got less than 50% of what they paid for."
AT&T did only slightly better of giving customers advertised broadband speeds. In their case, 30% of customers received under 86% of the speed they paid for, and 5% of customers got less than 62% of the speed the company advertised. So a lot of paying customers are being duped into paying for high-speed connections that are not being delivered.
And when it comes to Netflix, both Verizon and AT&T customers are having trouble with their connections to the popular streaming company. Even after settling a money dispute, Verizon has been unable to solve technical problems delivering Netflix on their network; Verizon's network delivers low-quality streaming of the video-on-demand service. At least those customers have access to it. Currently, AT&T customers can't even get Netflix since the two have not finalized negotiations.
Legere's disparaging comments were particularly extreme, even for him. But they highlight an ugly business model from two big U.S. companies: essentially that AT&T and Verizon use methods in both the cellphone and cable businesses that underline their overall mission — when they make a profit, we get screwed in the process.