The First, Hilarious 'Dear White People' Trailer Has Arrived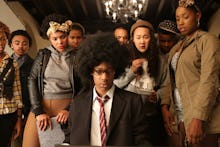 Justin Simien's Dear White People is a small movie, but it very may be one of the most anticipated and racially important films of the year.
After generating tremendous audience buzz at this year's Sundance Film Festival — and winning the Special Jury Award for Breakthrough Talent — the film officially has a trailer and a release date. For a small movie about racial politics in Hollywood, that's a very big deal. 
Dear White People is a biting satire that tackles Hollywood's portrayal of black characters on the big screen. As a character in the trailer so concisely puts it: "How come the only black movies Hollywood wants to make are the one's with black mamies in fat suits?"
Mic's Zak Cheney-Rice looked at the original concept trailer back in March, pinpointing just why Dear White People's look at race in Hollywood is so important and why it's theatrical release is so groundbreaking.
"That such issues could soon become a topic of discussion on movie screens throughout the country is borderline staggering. She's Gotta Have It, School Daze and Do the Right heralded a new era in black cinema in the late '80s, Dear White People is putting in work to revive their energy for young filmgoers today," he wrote. 
Dear White People will hit theaters on Oct. 17.