This Church Just Did What No One Else Would for the LGBT Community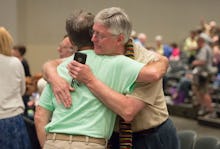 Same-sex marriages are Christian marriages.
That's the groundbreaking message the Presbyterian Church (USA), an influential mainline Protestant branch, just sent to millions of its members and peer organizations, both in the United States and abroad. By a decisive 429-175 vote, members of the Presbyterian General Assembly voted June 19 to officially recognize and affirm unions between any "two people," not just "a man and a woman."
The vote from America's largest Presbyterian branch and the subsequent change made to its Book of Order is a game-changer for millions of Christians, especially for followers who don't identify as heterosexual. For the first time, LGBT members of this large Protestant denomination will be afforded the same rights as their peers, with the same opportunities to have their unions blessed by their ministers, in their own churches. 
In recent years, the tide has turned for non-heterosexual Presbyterians and their supporters, following a series of controversial votes from the church's leadership. A 2011 vote by the organization officially allowed the ordination of clergy and other lay leaders in same-sex relationships. (That ruling ultimately caused a small schism in the group, with about 5% of churches leaving for more conservative Presbyterian organizations.)
At the last biannual assembly in 2012, Presbyterians came close to having their same-sex marriages affirmed, but governing members voted against it in a split decision, 338-308.
What a difference two years makes. While it's unclear whether or not the about-face is related to the increasing number of states and court rulings in favor of marriage equality, including the Supreme Court's reversals on both DOMA and Prop 8 last year, there's indisputable momentum right now for gay rights.
As expected, LGBT Presbyterians and the organizations who support them have been quick to share their excitement and desire to share in that momentum.
"This is a glorious day for the church and for LGBT people who have been seeking full inclusion here for decades," said the Rev. Randy Bush, co-moderator of the Covenant Network board and a Pittsburgh-based pastor. "We pray that the discussions ... in the coming year can be vehicles for healthy conversation about what it means to be [a] church together, even with deep disagreement."
Even with the trend of increasing support for gays, the situation is still bleak for millions of other Christians in denominations that don't officially recognize marriage equality or other LGBT concerns.
Although there are signals that attitudes towards LGBT Christians are thawing somewhat within religious organizations, the teachings and policies reflect a completely different reality. Conservative Christian doctrines, especially Catholic doctrine that follows a strict interpretation of the Bible, teach that marriages are only between a man and a woman, "gay" sex is immoral and that being gay is a "moral evil." 
The Rev. Frank Schaefer. Image Credit: AP
Other large Christian denominations, including the United Methodist Church (UMC) (the largest mainline group, with nearly 8 million U.S. members), don't ordain ministers in same-sex relationships. The UMC also forbids any clergy member from blessing marriages that aren't between a man and a woman, and strongly enforces the policy. Earlier this year, the Methodist Rev. Frank Schaefer was defrocked for performing his gay son's wedding. He recently announced his intent to appeal the decision.
The march toward LGBT inclusion isn't completely finished for the Presbyterian Church (USA) either. More than 172 regional bodies, known as presbyteries, must now vote to officially approve the decision to welcome marriage equality — which is likely, given the whopping margin of the June 19 assembly vote.
Still, the group's message, one of recognizing the inherent worth and value of the love between any two people, in the eyes of their God and their church, is already resonating across the country.
"This vote is an answer to many prayers for the church to recognize love between committed same-sex couples," said Alex McNeill, executive director at More Light Presbyterians. "We will keep praying that the majority of our 172 presbyteries will confirm that all loving couples can turn to their churches when they are ready to be married."