One Statistic Shows Just How Popular 'Frozen' Really Is Around the World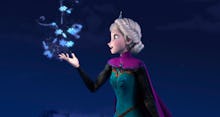 Just in case Frozen hadn't invaded our lives enough with the ubiquity of "Let It Go," the ice princess has cast a new spell on the world's population: Elsa is officially one of the most popular baby names.
According to Babycentre.co.uk, 243 children have been named Elsa since the movie's 2013 release, giving the name a push into the top 100 for the first time ever. In Sweden, it is currently the third most popular name. Although, that might just be because Frozen uses Scandinavian names and Sweden is, well, Scandinavian.
The reflection of pop culture prowess in baby name popularity is nothing new. Back in the 1980s, Family Ties caused a trend of babies named Mallory, Elyse and Keaton; the name Sloane spent some time on baby name lists after Ferris Bueller's Day Off; and of course this year has seen a whole smattering of Khaleesis thanks to Game of Thrones.
Image Credit: Blastr
While it is fun to track the rise of pop culture baby names today, the compulsion to name babies after popular culture is hardly a modern phenomenon. People have been naming their children after fictional characters for centuries.
If you know an Imogen, then you know somebody named after a Shakespeare character; he created the name for his play Cymbeline. If you know a Jessica, that's thanks to the character from The Merchant of Venice. The name Wendy was also popularized by J.M. Barrie in Peter Pan. Before that, it was sometimes a boy's name and occasionally a surname in medieval registers. And it was Jonathon Swift who invented the name Vanessa in his 1726 poem Cadenus and Vanessa.
Disney's U.K. Vice President Anna Hill released a statement expressing how thrilled she is to hear Elsa might join the ranks of such esteemed baby names as these. "We've been bowled over by the response to Frozen — it's now the fifth biggest film of all time and families are really connecting with Elsa's fight to overcome her fears and the powerful strength of the family bond which has helped her to achieve this."
Now why hasn't Olaf become more successful for boys?