Obama Is Finally Investigating a Crisis That Could Tear the World's Food Supply Apart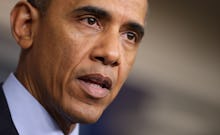 The news: President Obama has ordered an investigation into a matter that affects our economy, food supply and general world stability: the disappearance of bees.
The White House plan will have regulators at the Environmental Protection Agency analyze the effect of commonly used pesticides on bee health. The Department of Agriculture is also putting $8 million toward new bee habitats in the Midwest.
While it's not totally clear why bees and other pollinators began dying off in a phenomenon known as colony collapse disorder, scientists have pointed to pesticides in combination with parasites, diseases and other stresses as likely culprits.
Image Credit: NRDC
A big deal: At least 90 commercially grown crops rely on honey bee pollination, and animal pollinators are needed for 35% of the world's food supply, according to the White House. Honey bees alone account for more than $15 billion of the U.S. economy.
And according to one anonymous quotation, "If the bee disappeared off the surface of the globe then man would only have four years of life left. No more bees, no more pollination, no more plants, no more animals, no more man." 
Despite our reliance, their numbers are dropping precipitously. While beekeepers generally lose 10% to 15% of their colonies each winter, that number has climbed to an average of 30%. And when each colony is worth about $200, it really starts to adds up. (No wonder bee theft can be so lucrative.)
There are 2.5 million honey bee colonies left in the U.S. That's down from 3 million in 1990, 4 million in 1970 and 6 million way back in 1947.
Image Credit: Pollinator Stewardship Council
Is it enough? Some environmentalists and bee advocates are criticizing the administration, saying Obama's plan doesn't go far enough. Europe restricted the use of three pesticides thought to affect bees for two years; the EPA says it is "re-evaluating" the use of such pesticides but not currently banning or restricting them.
While the new proposal involves plenty of habitat fixes — increasing conservation areas, planting flowers along highways, adding more pollinator-friendly plants to federal land — many won't be happy until the pesticide issue is addressed.
Still, the plan calls for the EPA analysis to be completed within six months. Once that's completed, we might see pesticides on the agenda.