In One Quote, Mark Cuban Sums Up Why America's Student Loan Crisis Is a Huge Problem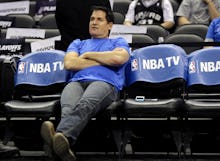 The quote: "That bubble is going to burst."
Billionaire, NBA Dallas Mavericks owner and ABC's Shark Tank shark Mark Cuban offered his take on the American student loan crisis this week, and he pulled no punches:
"It's inevitable at some point there will be a cap on student loan guarantees. And when that happens you're going to see a repeat of what we saw in the housing market: when easy credit for buying or flipping a house disappeared we saw a collapse in the price housing, and we're going to see that same collapse in the price of student tuition, and that's going to lead to colleges going out of business."
video platformvideo managementvideo solutionsvideo player
The bubble: Like Cuban says, former students owe more than $1 trillion in student loans. While it's certainly on the minds of those affected — 57% of Americans ages 18-24 say student loan debt is a major issue — lawmakers and businessmen like Cuban have begun to take note of the potentially massive impact on the economy.
Cuban's not new to the subject; he addressed it in a 2012 blog post, which also raised the specter of the housing meltdown, when home prices quickly hit a record high in the '90s and '00s before crashing even more quickly in 2006 and 2007, essentially causing the most recent recession.
"When easy money stopped, buyers couldn't sell," Cuban wrote in 2012. "They couldn't refinance. First sales slowed, then prices started falling and then the housing bubble burst. Housing prices crashed. We know the rest of the story. We are still mired in the consequences. Can someone please explain to me how what is happening in higher education is any different?"
Image Credit: Vox
Different solutions: Cuban says it's too easy to borrow money — when the federal government can guarantee all student loans, there's nothing to stop colleges from increasing tuition to get as much of that money as possible.
The federal government has already taken at least one step to address the problem. Congress passed a bill last year to decrease the standard undergraduate loan interest rate from 6.8% to 3.86%. A new bill was being considered that would have retroactively applied that rate to loans taken out before last year, though Republicans quickly killed any chance of that. 
Proponents of doing nothing may want to at least take heed of Cuban's comments, though: Student loans and tuition increases are good business — until they're suddenly not.