Sudan Has Decided the Fate of the Mother Put in Prison for Being Christian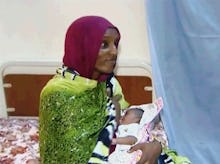 The news: The 27-year-old Sudanese mother who was imprisoned and sentenced to death for allegedly converting to Christianity from Islam now appears to have been freed.
Meriam Ibrahim was handed the death penalty on May 15 for apostasy and adultery. Northern Sudan has followed a strict code of Islamic Sharia law since 1983, and condemns religious conversion on pain of death. Ibrahim's case sparked international condemnation from world leaders and human rights organizations, with Britain and Canada both summoning Sudanese envoys to inform them that the sentence was a flagrant violation of Sudan's human rights obligations under various treaties.
Now the country's national SUNA news service says that the Court of Cessation in Khartoum has canceled the death penalty sentence after defense lawyers presented their case — and ordered her to be freed. After a long and troubling prosecution, it seems like Ibrahim now will be free to go.
The background: Sudan has an atrocious record of human rights, but Ibrahim's case in particular has drawn international rancor. Conversion warrants the death penalty under the Sudanese legal code, but this is the first case in which the sentence has been formally applied. Ibrahim's situation put her in a dangerous gray area in the eyes of the court: She was born to a Muslim father but identified as Christian like her mother. During the trial, Ibrahim refused to recant after the court provided a three-day grace period.
Ibrahim's husband is also Christian. Sudan also prohibits marriages between Muslim men and non-Muslim women, meaning that prosecutors considered her marriage invalid and charged her with adultery. Ibrahim was sentenced to 100 lashes as well. Adding insult to injury, she was forced to give birth to a daughter while imprisoned.
"'Adultery' and 'apostasy' are acts which should not be considered crimes at all, let alone meet the international standard of 'most serious crimes' in relation to the death penalty. It is a flagrant breach of international human rights law," Amnesty International researcher Manar Idriss said.
The timing of the case seems suspicious as well. In April, Khartoum's governor began facing accusations of corruption. And in early May, opposition leader Sadiq al-Mahdi was arrested on charges of "defamation," leaving a planned reconciliation plan in shreds. At a tumultuous time for leader Omar al-Bashir and the ruling National Congress Party's government, riling up a debate between secular elements of society and religious conservatives would distract from the country's many problems.
What now? Conservative Christians who were extremely active in her case want her and her family to come to the U.S. and live as free people.
"Her release from a Sudanese prison is a critical step toward securing her freedom and safety," Jordan Sekulow, American Center for Law and Justice executive director, told Fox News. "We now call on the Obama administration to examine all possibilities to ensure that Meriam and her two American children are granted safe passage and immediate legal status in the United States."
Rep. Chris Smith (R-N.J.) likewise said that "This is a huge first step. But the second step is that Ms. Ibrahim and her husband and their children be on a plane heading to the United States."
If that's what she wants, then it should be easy for Ibrahim to leave Sudan as a refugee. Hillary Clinton, Tony Blair, Jesse Jackson and the archbishop of Canterbury were all among the high-profile international figures who demanded the sentence be dropped, as was the State Department. Nearly one million people posted on Change.org calling for the sentence to be revoked, and the ACLJ collected another 385,000-plus signatures.