11 Powerful Images That Prove How Music Really Can Change the World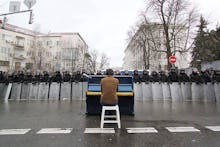 Music has a fundamental human power. It finds you on your way to work or when you're watching the opening montage in Up and can't keep from crying. It's at our first dates, our weddings and even our elections. But sometimes we forget that music is part of the most important moments in our history, too.
In this century, when, in  some years, more than 90% of the most popular music is about relationships and sex and the vast majority of us have decided it's not even worth it to pay for music anymore, it's especially important to remember why this art form matters. Because it does. It matters because if you look to the heart of social movements and earth-shattering moments in our own culture, you'll find music. Here are a few moments in recent (and not so recent) history that show music's power to change the world.
1. A man takes on Ukrainian riot police with a piano.
In Kiev, a Ukrainian man sat boldly before riot police with a blue piano just as the protests were reaching a boiling point. The man tried to charm the policemen with folk songs and classical music, according to Anastasiia Bereza, who took the photo. He wanted to defuse the situation before anyone got hurt.
This peaceful protest brings home the power of how even in the most chaotic environments, music can remind us of the true beauty that life has to offer and of the things that bring us together, even when we're intent on being apart.
2. 600 guitarists fought rape culture in India.
In January 2013, 600 guitarists gathered in Darjeeling, India, to pay tribute to a 23-year-old who died after being gang raped on a bus. The men and women played an acoustic version of John Lennon's "Imagine" in her honor. 
This gathering spurred many other protests around cities across India, as people demanded government and police action finally to halt the mistreatment of women.
3. Pete Seeger sang "We Shall Overcome" at a civil rights protest.
American folk singer and activist Pete Seeger sang the iconic song "We Shall Overcome" with nonviolent protesters in 1963. It was the height of the African-American civil rights movement, and this song went on to become the anthem for nonviolent civil rights activism. According to Zilphia Horton, the woman who first taught Seeger the song, "Its strong emotional appeal and simple dignity never fails to hit people. It sort of stops them cold silent."
This joining of voices rippled through political movements for the next 50 years. The peaceful song has been sung not only in the United States, but in North Korea, South Africa, China and Beirut.
4. Pussy Riot protests Putin in a prominent Moscow Cathedral.
In 2012, the five women of Russian punk rock band Pussy Riot held a performance in Moscow's Cathedral of Christ the Savior, where they sang a protest song about the Orthodox Church leader's support of Vladimir Putin. They considered him a dictator and made that fact known even when other similar dissenters kept quiet. As a result, they were thrown in prison for their "hooliganism."
Pussy Riot used music as an outlet of free expression in a country that prohibited it, and then their music brought the grave injustices they faced all the way around the world.
5. David Bowie shattered conventional gender norms.
David Bowie could have made a historic career out of being David Bowie. But on Feb. 10, 1972, the rocker transformed himself into the out-of-this-world Ziggy Stardust for a small audience at the Toby Jug pub in London. Little did he know that taking this kind of risk and performing in persona would influence everything from music to fashion to social movements for years to come.
It was a big step towards shattering the gender binary in pop music.
6. Conchita Wurst swept Eurovision.
Thomas Neuwirth, better known by stage name Conchita Wurst, wowed audiences with her incredible voice and striking appearance. The musician was selected to represent Austria at the Eurovision Song Contest in 2014. Though she faced major controversy because of her beard and accusations from conservatives who believed she was promoting LGBT rights (as if that's a crime), she won. 
Her performance of "Rise Like a Phoenix" was the moment Wurst proved that music transcends biases about physical appearance and sexual orientation. When she won, it was only a reminder that music can access the most human part of ourselves.
7. The Dixie Chicks took a bold stand against the Iraq War.
Popular country music trio the Dixie Chicks was playing a show in London in 2003 when lead singer Natalie Maines told the British crowd that she supported the British demonstrations against President George W. Bush's plan to wage war against Iraq. She said, "Just so you know, we're on the good side with y'all. We do not want this war, this violence and we're ashamed that the president of the United States is from Texas."
Soon after, the band received backlash from American corporations and many people from around the country (including fans). Their music sales dropped considerably, and they were even threatened physically. Nonetheless, the three women refused to simply "shut up and sing" and risked their lives by playing for a crowd of 15,000 in Greenville, S.C. Music is a means of free speech, no matter what beliefs the artist may hold, and the Dixie Chicks fought for that right.
8. Nat King Cole became the first African-American television host.
It was in November 1956 when internationally acclaimed crooner Nat King Cole made history as the first African-American to host a television show. It was a half-hour variety show on NBC that featured artists such as Ella Fitzgerald and Eartha Kitt. Racism was still more or less a national pastime, so the show was controversial enough and lacked national sponsorship. Many of its acts performed for free in order to help the show stay afloat.  
The Nat King Cole Show intended to prove that music is a universal language that is blind to color and background. 
9. Susan Boyle proved music trumps beauty standards.
When 53-year-old Susan Boyle first walked onto the Britain's Got Talent stage, she seemed like any other average Brit with mediocre abilities and a pipe dream. But the minute she opened her mouth, the judges and the millions watching were captivated by her strong and melodic voice as she sang "I Dreamed a Dream" from Les Miserables. After the show, she released an album and performed worldwide.
This moment was an example of music's ability to give power to the people who are often quickly judged or swept to the side — it's always been a bold voice for outsiders.
10. Aretha Franklin sang "My Country 'Tis of Thee" at Obama's inauguration.
President Barack Obama invited soul and R&B legend Aretha Franklin to sing at his inauguration in 2009. Her rousing rendition of Samuel F. Smith's "My Country 'Tis of Thee" represented much more than a celebration of American politics — it was an unflinching illustration of the social strides that the country has made in the past half-century.
Among Franklin's many accolades, she was also known for her participation in the civil rights movement in the '60s. She performed in support of Martin Luther King Jr., when he was alive and after his death. Many, including MLK Jr., could only dream of the day when an African-American man would be sworn into the presidency. Franklin completed the circle.
11. Israeli and Palestinian high schoolers joined in song.
In 2012, Micah Hendler, a Maryland-born music studies major from Yale, decided to move to Jerusalem to start an Israeli-Palestinian choir. The idea was to promote dialogue between Israeli and Palestinian high school students through music and collaboration. After overcoming many obstacles — schools didn't want to participate, they struggled to spread the word — Hendler brought together 30 students to form the YMCA Jerusalem Youth Chorus.
Now the choir sings songs in Arabic, English and Hebrew to facilitate cultural understanding between the musicians. Still, through music, Hendler was able to create a safe haven for young people to put aside their differences and share their common love of singing.