Millions of People Are Going Crazy Over Sam Smith's Whitney Houston Cover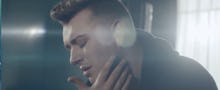 "It was only two years ago [that] I was working in a bar — I was cleaning toilets in a bar," 22-year-old Sam Smith told NPR. "I remind myself of that every day, at the moment, because I don't want to take anything for granted." 
It's a surprisingly grounded thing to hear from the young soul singer — surprising because everything else about his voice and career is astronomical. When his unadorned recording of Whitney Houston's "How Will I Know" surfaced Friday, the Brit caught his biggest break yet. In the few days since, it's amassed over a million views on YouTube.
In late 2012, Smith broke through as the featured singer on Disclosure's hit, "Latch" and has been building steam since. This past year, between the mounting popularity of his single "Stay With Me" and his U.S. television debut on Saturday Night Live in March, Smith has positioned himself for a seismic response to his brand-new album, In the Lonely Hour, which came out June 17. On Wednesday, the numbers will be in, and all signs point to Smith potentially topping Lana Del Rey's melodramatic Ultraviolence at No. 1.
Even with the hype, though, his decision to perform a Houston cover is audacious. She, after all, has one of the greatest vocal ranges of any singer and remains one of the most beloved American pop stars.
But Smith's heart-rending rendition of her 1985 dance hit is both unexpected and unbeatable. He stands stock still at the microphone, hands by his side, and belts with his eyes closed for almost four minutes. His guitarist, apparently, was so awe struck, that he does nothing for the entire video (note: probably not what was going there). Smith has a mighty voice — at times breathy as James Blake, then forcefully earthen. He invites the comparison with Houston, and there are only favorable conclusions to be drawn.
The year Houston's version became her second No. 1 hit, she appeared in a Rolling Stone interview, blown-out hair and all, to discuss her own astronomical career. A similarly styled reporter opposite her asked, "In 1985 you were chosen the Best New Female Singer — what do you think people saw in you that made them choose you?"
"It was time. It was time for singing to come back again," she responded. "To listen to words, you know? To feel what somebody was saying instead of what the spot was or the beat was."
With Sam Smith, that time has come again.