One of These Songs Will Be This Year's Song of the Summer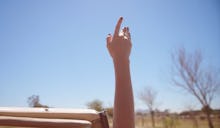 "The Song of the Summer" is a category that's taken hold of the cultural consciousness over the past couple of decades and reached something of a zenith over the past few years (see: "Get Lucky" or "Blurred Lines").
There are a lot of factors (release dates, publicity, radio favoritism) at play, and it's nearly impossible to pinpoint just one reason a song rises to dominance. But there's one common feature: Summer smashes of the past couple decades always represent a style's rise to prominence. If you look closely enough at what's beginning to trend on the peripheries of the chart, you can figure out what's going to catch the country's ear at its most open.
For example: The Verve's 1998 smash "Bittersweet Symphony" gave way to the arena-ready sensitivity of Coldplay. Rihanna's 2007 monster "Umbrella" paved the way for the beat-heavy pop/R&B crossovers that have dominated dance clubs for years now. Last year's duo of "Blurred Lines" (Robin Thicke) and "Get Lucky" (Daft Punk) opened the door for soul-heavy pop acts like Sam Smith.
As we enter May and June, this year's hits are starting to rear their hook-laden heads. Since we'll probably be hearing "Happy" until August, we avoided the usual suspects and rounded up nine summer breakouts from emerging artists, some you're likely to hear from for years to come.
1. "I Will Never Let You Down" by Rita Ora
Though she had mild success with 2012's "How We Do (Party)," U.K. pop star Rita Ora has yet to replicate her U.K. chart dominance in the United States. That's primed to change with her latest — and best — single, "I Will Never Let You Down," which features the kind of roll-the-windows-down-and-scream chorus that summer all but demands. 
The track isn't available in the U.S. yet, so the video will have to tide you over for now. But when it's released for summer, it's going to be inescapable. Good luck getting that melody out of your head.
2. "Fall in Love" by Phantogram
Phantogram's been something of a dark horse this year. It's not often that a band is both covered by Pitchfork and played on pop radio, but when it does happen, it usually spells big things (see also: Haim, Lorde). 
"Fall in Love" is a slow burn, perfect for lazy summer days lounging by the pool. Just don't be surprised if it ends up on a car commercial. 
3. "Rather Be" by Clean Bandit ft. Jess Glynne
Listening to "Rather Be" is like mainlining happiness. The breakout single from British electronic group Clean Bandit and vocalist Jess Glynne, "Rather Be" combines intricate strings, punchy synths and harmonies worthy of '90s-era Mariah Carey for euphoric results. Seriously, try to listen to it without smiling.
Having already hit No. 1 and broken streaming records in several European countries, it's just a matter of time before it takes over stateside. It bodes pretty well that the song broke Daft Punk's U.K. streaming record for "Get Lucky," debuted at No. 1 on the U.K. Singles Chart and is the first song by a U.K. artist since Adele's "Someone Like You" to spend four weeks at No. 1.
It's also the first U.K. single since 1996 to sell that many tracks in January, which is a notoriously slow month in the music industry.
4. "Heartbreak Dream" by Betty Who
If you haven't heard Betty Who, stop what you're doing and listen to her Slow Dancing EP right now. Equal parts Robyn and Katy Perry, Betty Who is an Australian-born, Berklee-trained pop singer poised to take the world by storm.
Her latest single, "Heartbreak Dream," is at once breezy and soaring, undercutting a tale of love lost with one hell of a singalong chorus. Though she's still relatively under the radar, her new EP debuted on the top 10 of the iTunes charts. Heartbreak should always be so danceable. 
5. "Stay with Me" by Sam Smith
Emotional ballads aren't typically summer fare, but with vocals as flawless and epic as Sam Smith's, there's no stopping this song. "Stay with Me" is a gospel-tinged soul throwback (move over, Robin Thicke) that is as close to a guaranteed hit as you can get. 
Following his U.S. television debut on Saturday Night Live in late March, Smith has rapidly gained traction in the States, with five songs currently charting in the iTunes Top 100. His debut album, In the Lonely Hour, hits shelves June 17, just in time for a late-breaking summer smash. This summer could prove Smith to be the U.K.'s biggest export since Adele. 
6. "Sleeping with a Friend" by Neon Trees
"Sleeping with a Friend" won't be Neon Trees' first hit (they've had chart success with "Animal" and "Everybody Talks"), but it's their strongest single to date (the hook is a perfect earworm), and it could also be their biggest. 
Vocalist Tyler Glenn has never sounded more confident, and it pays off in hook after swagger-filled hook. Glenn, a Mormon (like Brandon Flowers of The Killers before him), came out as gay just a month ago, garnering a lot of press for his stance against the Church's beliefs on LGBT issues. This is a band that deserves the attention.
7. "Am I Wrong" by Nico & Vinz
Despite being released more than a year ago, this track from Norwegian songwriting duo Nico & Vinz is suddenly getting attention, quickly working its way up U.S. and European charts. "Am I Wrong" fuses soulful vocals with light world-influenced drums into a sound like summer incarnate.
And if that's not enough, the video was shot on location in Botswana, Zambia and Zimbabwe and features scenery as beautiful as the song is catchy. If these guys can import the luck of the Swedes, this song is about to be everywhere.
8. "Nobody to Love" by Sigma
Sound familiar? Yep, that's "Bound 2" with some serious drum and bass action.
Originally released as a rough remix of Kanye West's Kimye-inspired tune, Sigma's "Nobody to Love" saw such wild success on U.K. radio that the group went back into the studio, re-recorded the track (with a session singer to replace Charlie Wilson's vocals) and scored a No. 1 single. 
While Sigma's video might not have a windblown Kim Kardashian, we still think it'll be a hit at all of your summer dance parties.
9. "Lanterns" by Birds of Tokyo
Here's one for the Imagine Dragons/Bastille crowd. Alt-rockers Birds of Tokyo are already successful in their home country of Australia, but have just started to make a splash in the U.S. after a recent performance on Jimmy Kimmel Live. 
Australia's most-played track of 2013, "Lanterns" is arena-ready but would sound just as good at an outdoor summer festival. Better find your lighter.