A Historic Study Shows America Will Pay Dearly for Ignoring One of Its Biggest Problems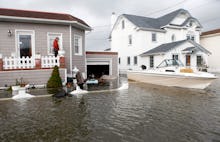 Seven billion dollars a year in coastal damage from hurricanes and other storms. Another $12 billion a year in energy rate hikes. Billions more in lost crops.
And that's what climate change will cost after just a decade or two.
A new report from a bipartisan group of researchers, business leaders and environmentalists led by former New York City Mayor Michael Bloomberg is not shy about how much money the country stands to lose if climate change continues unabated.
The report, titled "Risky Business," takes data from past heat waves and other projections to calculate literal "sunk costs." Between $66 billion and $106 billion of coastal property will likely be below sea level by 2050. Inland economies aren't safe either: Higher temperatures mean fewer work hours for outdoor jobs like construction and much higher energy costs for conveniences like air conditioning. (You're going to want air conditioning.)
Money talks: The report brings a new angle to a problem often framed around environmental conditions. That's not to say looking at the problem from a natural perspective isn't arresting. After all, take a look at the snow and ice magically disappearing:
Image Credit: NASA
But it's easy to detach oneself from time lapses and maps, which makes it easy for climate change deniers to make arguments like this:
Climate change is middle-class jobs versus Antarctic ice sheets and polar bears! And those polar bears don't even pay taxes.
By outlining the potential costs, though, we see why it makes sense from an environmental and business standpoint to address the climate crisis. It's not just our ice caps and mountain peaks that are affected; sea level rise and high temperatures mean real costs for real people.
Moving forward: "Risky Business" is the just the latest report about the dire consequences of climate change. The 2006 Stern Review on the economics of climate change, prepared for the British government, called the failure to address climate change a massive market failure. More recently, the White House released the National Climate Assessment, a sobering look at the potential U.S. impact.
That report came along with a new climate policy from President Obama, bypassing Congress to force power plants to cut emissions by 30% over the next 15 years. The Supreme Court dinged the plan, but essentially upheld it.
It won't be enough, but it's a start. Without more regulation and international cooperation, you're going to start feeling it in the wallet when you go to the grocery store or pay your energy bill. Plus you'll probably feel it in the air when you go outside.