A New Crisis Is Wreaking Havoc on North Korea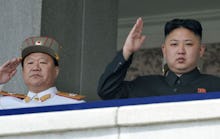 The news: You may have heard of North Korean dictator Kim Jong-un yelling at his country's meteorologists for making "too many incorrect" reports, but it turns out he has a good reason for being worried about the weather: the country is experiencing the worst spring drought in over 30 years, and there's no end in sight.
North Korea has had a troubled farming history: Its agriculture industry has been frequently impacted by floods, monsoons and droughts. But the latest drought has been much worse than usual, with some areas experiencing the lowest rainfall since 1961. The country's rivers and reservoirs are running dry, warmer-than-average temperatures are destroying crops and some regions are barely holding up after 70 days without rain.
Things have gotten so bad that the North Korean military — with the help of office workers, farmers, and women — has mobilized to direct water to fields and rice paddies. In the North Pyongan province, "hundreds of thousands of functionaries and workers are waging a battle in cooperation with soldiers to irrigate fields and paddies every day," reports the official paper Rodong Sinmun.
Image Credit: AP
But it's more than just a weather problem. For North Korea observers, the current drought has provided worrying flashbacks to the '90s when three years of flooding and drought led to the worst famine in the country's history. Anywhere between 600,000 and 2.5 million North Koreans are estimated to have died during those years.
While bad weather certainly played a big role in the tragedy, criminal mismanagement by the regime was a critical factor. A UN commission found in February that the North Korean people suffered "unspeakable atrocities" at the hands of its government. The commission's report detailed the use of torture, religious and intellectual repression, indoctrination, state surveillance, public execution and mass internment in concentration camps. But the most blistering part of the report was reserved for politically motivated starvation, which has allegedly been used by the regime as a tool for public control.
"Crimes against humanity have been, and are being, committed against starving populations. These crimes are sourced in decisions and policies violating the universal human right to food," the report concluded, comparing North Korea to 20th century totalitarian regimes such as Nazi Germany. "The gravity, scale and nature of these violations reveal a state that does not have any parallel in the contemporary world," the report added.
And the drought is only making things worse. The Kim dynasty has already been accused of controlling food supplies to award loyalists and punish dissenters. A further strain on the country's already scant resources is bad news for the people, but more arsenal for the regime to exercise its control over the public.
"North Korea's willful enforcement of hunger casts doubt on the capacity of outsiders to feed its people, absent fundamental political change in Pyongyang," the New York Times reported in March. "Coping mechanisms that regular North Koreans have learned — such as food smuggling, growing of food on hidden plots and black market trading — have probably done more to end the famine and change North Korean society than aid or 'engagement' programs."
The famine of the 1990s infamously created a generation of kotjebes, the so-called "flowering swallow" street orphans who roamed the country in search of food and shelter. Its legacy can still be felt today, as more than a fourth of all North Korean children are stunted from malnutrition and two-thirds of the country worry about their next meal. The risk is higher than ever to revert to another devastating famine and it would serve Kim to prioritize his concerns if he actually wants to prove himself as the Great Leader of his people.
Meanwhile, Kim has moved on to criticizing Seth Rogen and James Franco for making political parodies: