Incredible Footage of Michael Jackson's First TV Performance Reveals How His Career Began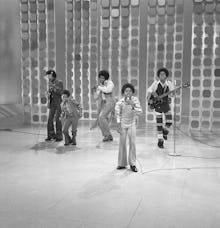 Five years ago, the King of Pop passed away in his Los Angeles home, causing such a massive outpouring of grief that it nearly broke the Internet. Since then, Michael Jackson has been prolific. He's had a Cirque de Soleil show, a video game and two posthumous albums released — including this year's Xscape, which peaked at No. 2 on the Billboard 200 (and currently sits at No. 9). In fact, his estate is raking in more money now than it did at the peak of his career.
But the spectacle around Jackson's legacy is so enormous that it's threatening to eclipse what started it all: a supremely talented, charismatic and lonely child star. This video of the Jackson 5's first TV performance gives us a glimpse into Michael's origins, as well as the man he would become. Today of all days, it's an important reminder of the man who shaped modern pop.
The video, from the 1969 Miss Black America Pageant in New York City, shows the Jackson 5 on the brink of massive stardom. Michael and his brothers had just signed with Berry Gordy's Motown Records, and would release their first single, "I Want You Back," later that year. Playing before their first national audience, the four supporting Jacksons lay down a James Brown-like guitar groove while Michael struts and yelps in the front of the bandstand, showing off his impeccable footwork. It's hard to believe he was just 10 years old — younger even than Britney, Miley and Justin were when they became famous as children. Michael would become so much more — and lose just as much. But this was always at his core.