One Chart Shows Why This Year's Pride Parade Is Truly a Year to Celebrate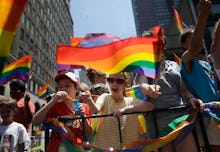 The news: What a difference one year makes. The annual NYC Pride Parade kicked off on Sunday after a week-long celebration of LGBT Pride across the U.S., and there was more to commemorate this year than ever before.
Just one year ago, the parade triumphantly celebrated the Supreme Court ruling that declared the Defense of Marriage Act unconstitutional. Today? In the span of just one year, many states have overturned the ban on same-sex marriage, a majority of the country now supports gay marriage, and President Obama has actively pushed for gay rights globally.
Then and now. Presently, 19 states have overturned bans on gay marriage. Pennsylvania, Oregon, and the District of Columbia just joined the ranks of other states with recent legal victories for the LGBT community. 
Since the Supreme Court ruling on DOMA, federal judges across the nation have struck down statewide bans on gay marriage in Idaho, Utah, Michigan, Virginia, Oklahoma, Texas, Oregon and Pennsylvania. Eight states overturned the ban in late 2013.
And because of the onslaught of same-sex marriage bans overturned, now nearly half of nation's gays live in states where they can tie the knot.
Here's one chart that sums it up perfectly:
Image Credit: The Washington Post
Public opinion has changed: According to a May 2014 Gallup poll, a record high 55% of Americans support laws that would recognize same-sex marriage., presenting a sharp upward trend in opinion. 
Image Credit: Gallup
Compare the new statistics to 1996, where 68% of Americans opposed recognizing gay unions and only 27% supported legalization. When Massachusetts became the first state to legalize it in 2004, national support was just at 42%. 
The surge can also be attributed to U.S. leaders becoming more forthright about gay rights issues, even pushing it onto the global agenda. In 2011, former Secretary of State Hillary Clinton said that LGBT rights were "one of the remaining human rights challenges of our time." 
White House National Security Adviser Susan Rice echoed Clinton's sentiment on Tuesday at the White House during a forum for gay rights activists. She also pointed out that President Obama "has directed that U.S. diplomacy and foreign assistance [to] promote the rights of lesbian, gay, bisexual, and transgender men and women around the world."
Earlier this month — the Obama administration granted a slew of new benefits, including Social Security and work leave to care for sick spouses — to gay couples, even those living in states where same-sex marriage is illegal. 
This year's Gay Pride celebration marks a joyous occasion for those within the LGBT community as well as many others.
Just in the span of a year, LGBT matters have advanced and improved exponentially.