The Ridiculous Reason This Basketball Standout Was Told She Couldn't Pursue Her Dreams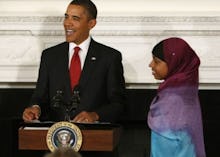 A talented basketball player from Massachusetts is being forced to chose between her religious identity and a potential professional career — all because of a bureaucratic objection to her expression of her faith.
FIBA, the Switzerland-based International Basketball Federation, has rules that prevent women from wearing hijabs, a traditional head-covering worn by some Muslim women, because it says it wants the game to remain "religiously neutral." That rule is now frustrating the hopes and dreams of Bilqis Abdul-Qaadir, a star basketball player from Springfield, Mass., who was the state player of the year in her senior season at New Leadership Charter School and later played college basketball for Memphis and Indiana State. Abdul-Qaadir is on the verge of quitting her attempts at a pro career because she feels she doesn't want to bow down to a sport that doesn't respect inclusivity. 
"I think in many ways the key word in FIBA is international," Abdul-Qaadir told MassLive. "I think that's what upsets me most ... FIBA says it wants to remain religiously neutral but this is discriminatory."
In her debut playing guard for the University of Memphis in 2010, Abdul-Qaadir became the first Divison I college basketball player to play in a hijab and said she hoped she would continue to play wearing the covering.
A year earlier, she was singled out by President Barack Obama during an official celebration of the Muslim Ramadan holiday.
"As an honors student, as an athlete on her way to Memphis, Bilqis is an inspiration not simply to Muslim girls — she's an inspiration to all of us," Obama said.
Abdul-Qaadir with Springfield Mayor Domenic J. Sarno. Image Credit: Springfield, Mass.
This is not the first time female athletes have found their sporting ambitions in conflict with their religious beliefs. In March, referees in Aurora, Colo., told high schooler Samah Aidah that she couldn't compete in soccer matches wearing her hijab. 
Aidah's teammates stood in solidarity with her and launched an inspirational social media campaign after the entire Overland High School team and coaching staff were photographed wearing hijabs, with the hashtag #LetSamahPlay. 
Image Credit: Mic
Internationally, women from Muslim countries like Iran and Jordan had to forfeit matches for year until the International Olympic Committee and the soccer's world governing body, FIFA, also finally voted to relax its rules regarding the headscarf in 2012, joining sports like rugby and taekwondo, which already allow hijabs. 
It's also not the first time FIBA has been petitioned to relax their own rules. 
The Council on American-Islamic Relations (CAIR), the nation's largest Muslim civil rights and advocacy organization, has officially requested the organization change it's rule for Abdul-Qaadir, as well as Indira Kaljo, a Los Angeles player who is attempting to play professionally in Europe. 
CAIR's letter, sent to FIBA President Yvan Mainini, stated in part:
"No athlete should be forced to choose between faith and sport. Muslim women seek to participate in sporting activities should not face artificial and arbitrary barriers to that participation."
While international federations have cited safety and neutrality as reasons for not allowing the hijab, some would argue that such bans are a vestige of the lingering discomfort and inaccurate — perhaps even Islamophobic — stereotypes that plague the traditional head cover. 
Despite the hardships and the garment-based discrimination in her sport, Abdul-Qaadir is committed to giving back to her game and said she may take up coaching in Springfield.
"I know a place like Commonwealth Academy in Springfield doesn't have a team. They have girls there that might want to play basketball," Abdul-Qaadir told MassLive. "I think I could go to a place like that and make a difference."
"I have no plans to change the way I am so I can play basketball. I've come so far and my religion has taken me this far. I'm not going to change."