Why 60,000 People Are Trying to Ban This 19-Year-Old Cheerleader From Facebook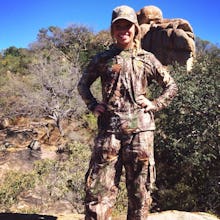 Normally, pictures of animals are welcome on Facebook. Kendall Jones, though, is posting something much more controversial than pictures of her dog.
Jones, a cheerleader at Texas Tech, is also a big game hunter. Her Facebook page, which has 45,400 likes and counting, features many photos of her kills — some of which feature endangered animals. Take a look below:
Image Credit: Kendall Jones/Facebook
Is this legal? Almost certainly. Hunting permits for endangered animals are very limited and are often sold to raise money for conservation. Earlier this year, for instance, the Dallas Safari Club auctioned off a black rhino hunting permit for $350,000, which went to rhino conservation.
Jones touts her conservation, but her photos have been met with controversy. A petition with nearly 60,000 signatures is asking Facebook to remove her page. Another petition, started by a South African, calls for African countries to bar her from hunting.
Not the first time: Despite the potential to raise money, critics say giving out permits to hunt endangered or threatened species still puts a price on their heads and perpetuates a mindset that wildlife, especially in Sub-Saharan Africa, is there to be plundered by rich visitors.
A similar uproar occurred after hunter Melissa Bachman was photographed posing with a lion she had shot in a legal hunt that nevertheless spurred protest. Last year, an NBC Sports Network show funded by the NRA was pulled from the air after its host — and this is quoting the Guardian — "shot an elephant in the face and then compared his critics to Adolf Hitler."
Jones has thankfully avoided breaking Godwin's Law but is on the defensive after all the negative attention. Still, it hasn''t all been bad; as she wrote on Facebook, "All the anti-hunters posting negative comments and sharing my photos on their page has helped me get over 600 likes in the past 48 hours."
In the meantime? She's preparing for her hunting television show next year.