This Brave Woman's Swimsuit Photo Is Going Viral Thanks to a Very Unusual Accessory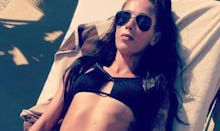 When Bethany Townsend was 11 years old, she suffered what few children that age can even imagine going through: having 16 inches of her intestine taken out. More than a decade later, Townsend has become an inspiration for all the little girls who might be facing such a daunting procedure, proving that while the disease had altered her appearance, she won't let it stop her from doing what she loves.
Townsend, now 23, developed Crohn's disease, which causes the digestive system to become inflamed, when she was just 3 years old. Following the surgery, Townsend was put on a seemingly-endless regimen of different prescriptions and diets. Unfortunately, four years ago, Townsend suffered another setback: Her bowel ruptured, which almost killed her. It necessitated the make-up artist from Worcester be fitted with two colostomy bags on her lower abdomen.
The colostomy bags were just part of what seemed like an endless battle for Townsend. "Growing up I'd had various surgeries to try and combat the Crohn's. I'd go in and have sections of my intestine cut out, but I'd only be in remission for a couple of weeks before it came back again," she told the Daily Mail. 
Townsend said at first she felt like she couldn't live a normal life due to her disease. The colostomy bags were the last straw. She couldn't hold herself up when she woke up after surgery to find the bags tied to her. Townsend told the Daily Mail she burst into tears when it finally sunk in that she'd have to live the rest of her life with the colostomy bags. 
But then Townsend made an inspirational decision — she wasn't going to let Crohn's win.
Image Credit: Facebook
"Finally after three and a half years, I decided that my colostomy bags shouldn't control my life," she told the Crohn's and Colitis UK Facebook page. "So when I went to Mexico with my husband in December last year I finally showed I wasn't ashamed. Still hoping for a cure ..."
Crohn's and Colitis UK posted the photo online, where it quickly went viral, with hundreds of thousands of people "liking" and sharing her story. Townsend has also been flooded with messages on Facebook, Twitter and Instagram. Empowered by the outpouring of support, Townsend even said she has revisited her dream of becoming a model.
Meanwhile on social media, Townsend's story has also become something of an inspiration for others living with similar difficulties.
Image Credit: Instagram
According to the Crohn's and Colitis Foundation of America, recent research suggests hereditary, genetic and environmental factors contribute to the development of Crohn's. Crohn's disease may affect as many as 700,000 Americans, according to the foundation. Meanwhile in the U.K., the number of patients suffering from the disease has quadrupled in the last decade: Between 2003-2004, the number of young people who were admitted to hospital with Crohn's was just under 5,000. By last year, it had risen to just under 20,000, according to the BBC.
Currently, there are a lot of unknowns surrounding the disease. Although the exact cause of Crohn's has yet to be discovered, the Mayo Clinic notes that the latest research suggests heredity or a malfunctioning immune system play a role. There's also no known cure for Crohn's. However, varying treatments can reduce symptoms by encouraging long-term remission. 
For her part, Townsend said even more than letting go of her own insecurities and feeling burdened and exhausted with the colostomy bags, she took her photos because she wanted to let people know life with Crohn's is possible. Her openness and the positive reaction to her story is similar to that of burn survivor Turia Pitt, who was recently featured on the cover of the Australian Women's Weekly. Pitt, like Townsend, put herself in the public eye in an effort to show the world that confidence is one of the true hallmarks of beauty.