The U.S. Navy Just Made Gender Equality History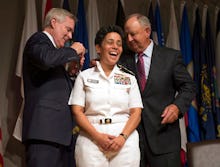 The news: 238 years after it was founded, the United States Navy finally has its first female four-star admiral.
Adm. Michelle J. Howard was awarded the Navy's current highest rank Tuesday at the Women in Military Service for America Memorial at Arlington National Cemetery in Arlington, Va. She takes over as the vice chief of operations, the Navy's second-highest officer position.
Navy Secretary Ray Mabus said at the ceremony that the momentous event is a "representation of how far we have come, and how far she has helped bring us."
Image Credit: Washington Post
Besides being the first woman on the job, Howard is also the first African-American to hold the rank. She was previously the first African-American woman to both command a ship and serve as a three-star officer in the military.
This is a huge step for the Navy. In 1917, women were given the ability to enlist; only recently have they been given the right to fight in combat roles. Currently, women make up only 18% of the Navy's ranks, and African-Americans make up only 8% of its officers.
Image Credit: U.S. Navy Personnel Command
It's also a crucial milestone for the U.S. military. Though the Pentagon opened up combat positions to women in 2013, there is criticism of the military's implementation of the decision. Critics allege that the Marines and the Army, in particular, have "unclear and inconsistent approaches to integrating women fully into the forces."
Women also face additional challenges in their military careers, including sexual assault. The New York Times reported that about 1 in 3 military women has been sexually assaulted, more than twice the rate of civilian women. In addition, of the roughly 19,000 sexual assaults that occur every year, only a small number is reported — 3,191 in 2011. A 2009 report indicated that military women also had a higher divorce rate and a tougher time balancing home and work life.
Image Credit: U.S. News
Howard's promotion is a huge step forward and something to celebrate. In light of the recent avalanche of bad decisions affecting women, including the Hobby Lobby and buffer zone Supreme Court cases, Howard's rise gives hope that things can and will get better.
Howard noted that it wasn't an easy road: "There's been times where there were individuals who didn't want me there or wanted to undermine what I was trying to do," she told WJLA TV.
The celebrations, however, have already begun, and in the craftiest way possible. Below, a sneaky change was made to the Navy's (now-fixed) Wikipedia page: