#ThingsTimHowardCouldSave If He Were President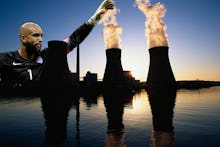 After his already legendary performance in a 2-1 loss to Belgium in the World Cup, America is abuzz: Is there anything Tim Howard can't save?
We've already made Howard secretary of defense, so let's go a step further. Here are some #ThingsTimHowardCouldSave if we were to make him president.
Our Supreme Court
Image credit: AP
No health care coverage for birth control? Denied! Crazy campaign finance rulings? Rejected! Gutting the Civil Rights Act? Tipped over the bar! President Howard can block any and all ridiculous rulings, even from the highest court in the land.
Our environment
Image credit: AP, Getty
Those greenhouse gas emissions don't stand a chance with President Howard in goal. Even 5 billion metric tons of carbon dioxide can't get past our keeper.
Our health
Image credit: AP, Getty
It's no secret — America has an obesity epidemic. More than one-third of U.S. adults are obese, according to the Centers for Disease Control. Sure, Michelle Obama has her Let's Move program, but what if everyone had a goalie instead? President Howard can dive in the way of all those burgers, fries and shakes you're trying to cram into your mouth as you put off jogging for another day.
Our health care
Image credit: AP, Wikimedia Commons
Better fitness alone won't save American health care. Luckily, while the House is busy voting down Obamacare 50 pointless times, our president can give every citizen NanoHowards to ward off any and all diseases and ailments. No viruses in your goal!
Our economy
Image credit: AP, Getty
There are nearly 210 million unemployed Americans, according to the Bureau of Labor Statistics. As the economy recovers, what better place to put them to work than on defense? Let's see Belgium try and get 39 shots off with 10 million defenders standing in their way.
Community
Image credit: AP
What's that? Yahoo already saved Community? Well President Howard could definitely block the cancellation of Arrested Dev- wait, that came back a while ago? Well, guess there's nothing for Timmy to save on the TV front. And no, Firefly's gone. He's a goalie, not a miracle worker.