President Obama Says He Has "Unfinished Business" With Wall Street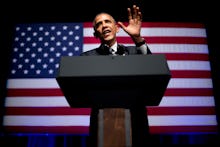 The news: In an interview with Marketplace on Wednesday, President Barack Obama said he had "an unfinished piece of business" for his administration to tackle: making sure that banks are helping the economy grow instead of taking big risks for their own profit.
Though Obama did not lay out specific plans to achieve this goal, this statement is still a big admission by the president, whose administration has maintained a wait-and-see approach while the 2010 Dodd-Frank law took hold — until now.
"What I've said to my economic team is that we have to continue to see how can we rebalance the economy sensibly so that we have a banking system that is doing what it is supposed to be doing to grow the real economy, but not a situation in which we continue to see a lot of these banks take big risks because the profit incentive and the bonus incentive is there for them." Obama added, "Some of the work to get that done, though, involves restructuring the banks themselves — how they work internally."
The need for reform: Obama's statement follows the House's recent passage of a bill that will weaken the Commodity Futures Trading Commission's power to regulate the derivatives market. The vote, which mostly followed party lines, has been criticized by Democrats and the White House for endangering market stability.
"The proposed changes would hinder the CFTC's progress in successfully implementing these critical responsibilities and would unnecessarily disrupt the effective management and operation of the agency, without providing the more robust and reliable funding that the agency needs," the White House said in a statement.
The Obama administration may be playing into the wide public consensus that not enough has been done to hold banks accountable for the recession. The Justice Department has vowed to widen its investigation into the subprime mortgage crisis, but as Obama suggests, you need something stronger than a fine and a slap on the wrist to prevent big banks from making similar risky moves in the future.
What can the president actually do? Unfortunately, while Obama's new firm stance on banks might be welcome, there isn't much he can do on his own. Most regulatory oversight of the financial sector is in the hands of independent agencies such as the Federal Reserve and the Securities and Exchange Commission. While Obama has moral suasion and convening power as president, he can't just take a unilateral action — much to his chagrin.
In the Marketplace interview, Obama claimed Dodd-Frank was intended "to prevent another catastrophic financial crisis. It wasn't expected that it was going to solve all the problems." Those problems still exist, but it remains to be seen how big of an action the president can take with a Republican-controlled House that is firmly against more regulation.