19 Powerful Photos That Will Change the Way You Think About What It Means to Be American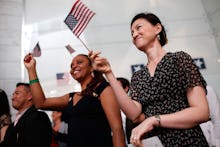 Ask anyone outside of the United States to describe what an American looks like, and there's a chance that they will picture a blonde, smiling cheerleader. 
In reality, Americans come in all shapes and sizes. It's a country that is living up to its melting pot reputation, and is now more diverse and multicultural than ever before.
That diversity is one of the best parts of the United States, but it is also one that is under threat. Just recently, Speaker John Boehner (R-Ohio) told President Obama that comprehensive immigration reform won't be discussed this year. 
"We have a fundamentally failed immigration system", writes Richard Trumka, head of AFL-CIO, "the core ideals of our democracy have been undermined in two ways: one by having millions of people living and working in the country without a path to citizenship, and two, by the stain of victims cruelly deported by the broken machinery."
While pundits like Ann Coulter try to peddle a narrow and homogenous definition of what it means to be American, it's an identity that is ever-evolving, and hopefully one that will only continue to become more varied.
1. Simran Lamba
Simran Lamba, who practices the Sikh faith, was the first soldier to be given religious accommodation in the military.
2. Abass Hassan Mohammed
Somalia-born Abass Hassan Mohammed smiles for a photo after becoming a U.S. citizen.
3. Alex Contis
Alex Contis, from Romania, places a flag in the hair of his daughter during a naturalization ceremony in Atlanta.
4. Sanja Jagesic
Sanja Jagesic, a Bosnian refugee, stands in front of Wellesley College, where she studies today.
5. Sherwin Callander
World War II veteran Sherwin Callander, 94, was born in Canada to an American mother, and his family moved to the U.S. when he was 3. However, he didn't have documentation proving his U.S. citizenship. Federal officials heard his story and on Monday gave him a proof of citizenship certificate so he could get a passport in time to leave for France for D-Day ceremonies.
6. Peter Ter
Peter Ter, center, now lives in Florida after turmoil in Sudan separated him from his family. Ter was eventually given refugee status in 2001, after landing in a refugee camp in Kenya.
7. Bablu Sheikh
Bablu Sheikh, a first generation Bangladeshi-American Muslim poses with her parents before heading out for his senior class prom at Hillcrest High School in New York, June 10, 2011. 
8. Alejandra Tejada
Alejandra Tejada, 55, is an American citizen who is originally from Bolivia and living in Arlington, Va. 
9. Torffic Hassan
U.S. Marine Lance Corporal Torffic Hassan poses with his U.S. Citizenship Certificate under the statue of President George Washington after attending at a U.S. Citizenship ceremony in New York, NY, on March 22, 2013. He is originally from Ghana.
10. Bashar Makhay
 Bashar Makhay is a Catholic, gay Iraqi-American who created Tarab, a series of parties, gatherings and events for LGBT Arabs and Middle Easterners in New York. 
11. Edwin Gustavo Sotillo Varga
Edwin Gustavo Sotillo Varga of Peru, waves an American flag during the naturalization ceremony administered by the U.S. Citizenship and Immigration Services (USCIS), June 5, 2014, in Miami. 
12. Andre Linde
Andrei Linde is a Russian-American theoretical physicist at Stanford University in Palo Alto, CA.
13. Sergey Brin
Russian-American computer scientist and Internet entrepreneur Sergey Brin is the co-founder of Google. 
14. Vipul and Arti
Married couple and teammates Vipul and Arti from Windermere, Florida, are the first Indian-American team to compete in the Amazing Race. 
15. Diana Ng and Cynthia Olivera
Chinese-American students Diana Ng and Cynthia Olivera before a college tour at Tufts University.
16. Goro Tashiro
Goro Tashiro, 87, after being honored with the Congressional Medal of Honor in 2011. Tashiro, a Japanese-American, a Nisei WWII veteran.
17. Eric Parnes
Iranian-American photographer Eric Parnes stands outside the abandoned Iranian embassy in Washington, D.C.
18. Dania Darwish
Syrian-American high school graduate Dania Darwish, left, poses with a friend during the annual Arab-American Heritage Week festival in Brooklyn, New York.
19. Louie Natrella
Italian-American Louie Natrella poses during the annual Columbus Day parade in New York City.