25 Patriotic Things to Watch on Netflix to Make You Feel Like a Real American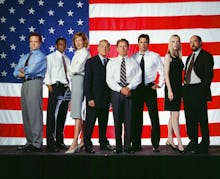 Thanks to unexpected and unwelcome holiday guest Hurricane Arthur, it looks like many on the East Coast will be stuck inside this Fourth of July. While that means all our best-laid plans for patriotic BBQs, fireworks and American-brewed beer-guzzling are getting rained out, there's no reason to be red, white and blue. (See what we did there?)
Whether you're trapped indoors or just not interested in one more grilled hot dog, we scoured Netflix for all the best 'Merican movies, TV series and miniseries that you can stream this Independence Day. From razor-sharp American political dramas to gripping war tales (and even one zombie movie), you've got the best of our great nation at your fingertips. 
1. 'Forrest Gump'
Patriotic is as patriotic does. If the scene in which Forrest Gump tells John F. Kennedy he's "gotta pee" on the steps of the White House as the president laughs helplessly doesn't make your chest swell with something akin to American pride, well then, what are you, some kind of commie? This whole movie is one big ode to hazy Americana nostalgia, with Tom Hanks' simple-but-sweet Gump tripping through our country's iconic historical moments like they're one big box of American chocolates.
2. 'Red Dawn'
Alas, Netflix isn't streaming the 1984 Patrick Swayze original, so we'll have to settle for the 2012 Chris Hemsworth reboot. But that's OK, because the sentiment remains — the sentiment being 'MURRICA! A group of teens takes up arms and takes it upon themselves to defend their small town from a North Korean invasion (in the '84 version it was the Soviets). Isn't it refreshing to see American youth spending their time constructively?
3. 'The Grapes of Wrath'
John Steinbeck was a true literary master when it came to Americana, even if he was often painting a less-than-rosy picture. This 1940 film adaptation of his Pulitzer prize-winning novel, arguably his most famous, follows a down-on-their-luck family fleeing the Dust Bowl as they make their way to California in search of greener pastures. This ain't your "rah rah, America is No. 1" Fourth of July flick, sure, but it's a compelling portrait of the grit and endurance that built this country's once-booming fortunes, and at the very least, it should remind us that as far as economic depressions go, we've survived some pretty bad ones.
4. 'Patriot Games'
We really wanted to put Air Force One on this list, but since Netflix isn't streaming our favorite patriotic Harrison Ford vehicle, we settled for the next best option. Still, it has the word "patriot" right there in the name. Ford stars as retired CIA agent Jack Ryan in this adaptation of a Tom Clancy novel, which follows Ryan as he's thrown back into the spy game after intervening in an IRA assassination, thus putting his family (and his country, don't forget his country) in jeopardy. Game on, terrorists: Everybody knows you don't mess with an armed and angry Harrison Ford. Or, you know, AMERICA.
5. 'Butch Cassidy and the Sundance Kid'
It doesn't get much more American than your classic western, and this is one of the best of 'em. Paul Newman and Robert Redford make for two very handsome outlaws (Butch Cassidy and his sidekick, respectively) who flee to Bolivia when the heat in the U.S. of A. gets a little too much to bear. The film is preserved in the National Film Registry for being "culturally, historically or aesthetically significant," but, as far as we're concerned, it's just good old-fashioned American cinematic fun.
6. 'American Psycho'
OK, OK, so psychotic one-percenter Patrick Bateman's bloodthirsty romp through Manhattan doesn't exactly smack of festive Fourth of July fun, but you have to admit that it doesn't get much more American than the exploits of Wall Street's smarmiest, murderous or otherwise. Plus, the film adaptation of Bret Easton Ellis' killer novel just might be one of Christian Bale's best performance of all time (oh, chill out, Batman superfans). And while watching Bale maul his lady-friends with a chainsaw isn't quite the same as watching fireworks, it's certainly an ... explosive performance.
7. 'Legends of the Fall'
Talk about your red-blooded American man. Legends of the Fall might be famous for featuring Brad Pitt at his steamiest (save Fight Club), but it's also a compelling portrayal of an American family living off the land before the First World War. The Fourth is as good a day as any to tear ourselves away from all our many devices (well, except a TV screen, obviously) and remind ourselves of a time when American life was about hard work and survival and not just, you know, memes and viral quizzes 'n stuff. Also, it was about Brad Pitt's abs.
8. 'The Great Gatsby'
No, not the Jay Z-soundtracked extravaganza that was the recent Leonardo DiCaprio take on one of the most American novels of all time. This is the old-school adaptation from 1974, which, thanks to Robert Redford, Mia Farrow and Francis Ford Coppola, more accurately captures the glamor and grandeur of Jay Gatsby's carefully constructed Gold Coast facade. Gatsby, before he's undone by his own insatiable aspirations, is the epitome of the American Dream realized. And hell, it's just a damn good story.
9. 'The Good, the Bad and the Ugly'
Decades before Clint Eastwood was chasing neighbors off his lawn as a crotchety, racist (but ultimately good-hearted) Korean War vet in Gran Torino, the silver screen cowboy was warring with Mexican bandits over buried Confederate gold in this classic spaghetti Western. While the film was actually Italian-produced, the plot is all American, with desert gunfights, Civil War battles and strong-jawed cowboys to spare.
10. 'The Long Hot Summer'
Based in part on the short stories of William Faulkner, one of the most influential southern writers of all time, this 1958 drama follows a drifter and conman (Paul Newman) who ingratiates himself with a wealthy Mississippi family in order to rob them blind. The masterful Orson Welles stars as the family's patriarch in a film that's as American as apple pie — or, you know, conning your way to the very top.
11. 'A League of Their Own'
There's no crying in baseball, but there are plenty of tearjerker scenes in this beloved film about the All-American Girls' Professional Baseball League, founded to give the folks at home something to focus on while the men were away fighting World War II. Headliner Geena Davis knocks it out of the park as a powerhouse farmgirl catcher, while Tom Hanks shines as one-time baseball superstar turned washed-up, drunken lout forced to coach a spunky team of lady ballplayers (yep, that's a raven-haired Madonna and a young Rosie O'Donnell in the dugout) in one of our favorite baseball and wartime movies.
12. 'House of Cards'
In case you've missed all the hoopla, this is the perfect weekend to catch up. Washington is a snake pit — at least that's the general idea behind Netflix's excellent original series. The show follows Kevin Spacey's Frank Underwood, a silver-tongued politician whose bite is much worse than his lightly-accented bark, as he ruthlessly (and expertly) navigates his way to the top seats of American political power. There are few likable characters in this show (Robin Wright is chilling as his ever-composed and similarly pragmatic wife and partner in career-climbing), but that doesn't keep it from being one of the most compelling TV political dramas to date.
13. 'The West Wing'
Speaking of American politics, Aaron Sorkin's long-running (and long-beloved) The West Wing brought the drama and intrigue of the White House into our living rooms almost 15 years before Frank Underwood was systematically taking out the competition in the Senate. Boasting an all-star cast that includes Martin Sheen, Rob Lowe and Allison Janney, the quintessentially Sorkinesque TV series is slightly less dark than House of Cards, but no less engrossing. That's the great thing about this country: all the options.
14. 'Love Story'
While there's nothing overtly patriotic about the movie the American Film Institute declared one of the most romantic movies of all time, you have to admit that there's something wholly American about this collegiate love story. Two fresh-faced, preppy co-eds (Ryan O'Neal and Ali MacGraw) find romance on their ivied campuses (Harvard and Radcliffe, respectively) but face seemingly insurmountable obstacles, including class inequality (he's the golden heir to a long line of Harvard grads and she's the outspoken working class girl making her uneducated family proud). It doesn't get much more American than that. Stock up on Kleenex, this one's is a heart-render.
15. 'The Graduate'
Talk about an American love story, er, triangle. Many a hot-blooded American male's boyhood dreams came true onscreen as they watched Benjamin Braddock (Dustin Hoffman, in a career-making role) make it with a sexy, older woman (Anne Bancroft, America's first cougar). So far, so awesome, right? The only problem is, Braddock's older paramour is the wife of his father's business partner ... and he's falling in love with her daughter.
16. 'Abraham Lincoln vs. Zombies'
Not to be confused with Abraham Lincoln: Vampire Hunter, the 2012 film adaptation of the book of the same name, this horror-action B-movie finds our 16th president battling the walking dead. A mockbuster of the former film, this schlock-fest features Honest Abe fighting off a staggering undead army of Confederate soldiers.
17. 'Mr. Smith Goes to Washington'
In a tale of American politics marked by dogged idealism rather than cutthroat scheming, this 1939 black-and-white classic stars Jimmy Stewart as Jefferson Smith (how do you like that for a strong 'Merican name?), a wet-behind-the-ears senator thrown into the aforementioned Washington snake pit, practically unarmed. Thankfully, Smith has his scruples to keep him fighting for democracy and We the People.
18. 'Patton'
Our troubled yet storied history gives us no shortage of famous (and infamous) war heroes. This 1970 biography, cowritten by Francis Ford Coppola, follows one of World War II's most controversial figures, Gen. George S. Patton, as he leads his troops across continents. History can be done dryly, but not when the key players give you this much material.
19. 'What About Bob?'
Take a break from the weighty worlds of politics and war to spend some time with Bob Wiley (Bill Murray) a neurotic, boundary-ignoring man who follows his psychiatrist (Richard Dreyfuss) to his family's summer home — and refuses to leave. (He's there all summer, even for the Fourth! There's your patriotic tie-in.) Plus, this is one of the best summer-set comedies of '90s.
20. 'Mitt'
Political views aside, this is a compelling watch. You don't have to agree with the man's politics to find yourself absorbed in this documentary that follows former Republican presidential candidate and Mormon family-man Mitt Romney during some of the most trying periods of his life: his 2008 and 2012 presidential campaigns. In fact, the documentary is less an exploration of Romney's political ideals than it is a portrait of the man behind the oft-mocked public persona. Love him, hate him, or think he's a total joke, the doc is worth a watch.
21. 'United 93'
If you tune in to this one, be forewarned: It is heavy. United 93 is a sobering, real-time account of the events on United Flight 93, one of the planes hijacked on Sept. 11, 2001. The passengers on that flight came together and rose up against the terrorists aboard their flight, ultimately succeeding in crashing the plane near Shanksville, Pa., before it could make its way to its intended target. Light holiday entertainment it is not, but the actions of those passengers exemplify patriotism — and heroism — as we know it.
22. 'Fields of Valor'
History buffs can settle in for a long afternoon (and evening) of Civil War stories with this four-part miniseries. A dramatization based on real individuals and events, the miniseries tells the stories of the 20th Massachusetts and 1st Virginia Infantry Regiments as they come to bloody blows on the battlefield.
23. 'Sarah Palin: You Betcha!'
File this one under "films that will make your heart swell with patriotic pride in a country that did not put Sarah Palin anywhere near the White House." British documentary filmmaker Nick Broomfield set out to skewer Palin (a job she too often did herself) in this "100% unauthorized" portrayal of the former vice presidential candidate, for which he interviews many of Palin's family members, former friends, political allies and more. The doc makes few new revelations about Alaska's ex-governor, but for those who still cringe remembering the days of "I can see Russia from my house!" it's an amusing romp down memory lane.
24. 'We Were Soldiers'
Say what you want about Mel Gibson and his personal views, but the man is a good war hero. From The Patriot (another film we wish Netflix were streaming) to Braveheart, Gibson has demonstrated a particular talent for rallying onscreen troops to battle. In We Were Soldiers, he's battling the Viet Cong in the Battle of la Drang, the first major American conflict of the Vietnam War. The cast also features Greg Kinnear, a pre-Don Draper John Hamm and Keri Russell, among other A-list billings.
25. 'Black Hawk Down'
These days, Josh Hartnett has re-established his previously waning career on Showtime's dark fantasy/horror series Penny Dreadful. Back in the early aughts, however, he was fighting Somali warlords in this British-American war drama based on a series of Philadelphia Inquirer articles by reporter Mark Bowden. Hartnett stars as a soldier dispatched to civil war-torn Somalia as part of an U.N. peacekeeping effort. It's a harrowing, fast-paced film that pulls no punches in its depictions of war — the costs of which we should keep in mind when we're celebrating this Independence Day.