Somebody Flew a Drone Into the Middle of a Fireworks Show, and the Result Is Incredible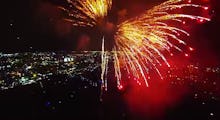 If you're tired of fireworks, it's only because you've never seen them like this.
It's not unpatriotic to find firework displays a little tiresome — when are we going to get some new shapes, science? — but it turns out we've just been watching them from the ground like idiots all along. Take to the sky, and the show is simply spellbinding:
How it happened: Floridian Jos Stiglingh attached a video camera to a drone because being an American means sticking one expensive piece of electronics to another before tossing them straight into the middle of a ton of explosions.
Stiglingh actually made this video during a May fireworks display in West Palm Beach, Fla., but it's just racing across the Internet now thanks to the Fourth of July.
Other uses: Drones are probably most famous for other types of explosions, but they're becoming more commonplace for activities like this. We've seen drones photograph weddings (though not particularly well), display ads and map land. It's not just private users like Stiglingh either; Martin Scorsese used drones to film scenes in the Wolf of Wall Street and NBC used them during the Winter Olympics.
Not every private use is legal, though. The Federal Aviation Administration monitors drone use, though as Mashable notes the laws haven't quite caught up with reality. Commercial use is prohibited in many circumstances. Flying them for fun is fine, as long as you keep it away from plans and populated areas and below 400 feet. If you don't follow those rules, you may be looking at a $2,200 fine, though limited manpower means it can be hard for the FAA catch you.
Stiglingh's flight, then, was likely illegal. Others have noted the potential safety risks involved with flying a drone through fireworks, mainly that if the drone is destroyed it could fall from the sky and strike someone. Was it worth it? Run the video back and judge for yourself.
Image Credit: Imgur