One Veteran's Troubling Death Shows How Screwed Up the VA Health Care System Is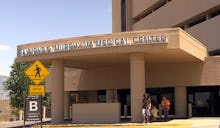 The news: For months now, we've been hearing horror stories of veterans being forced to waste years on wait lists. But this story takes the cake in terms of sheer absurdity: An Albuquerque, N.M., veteran passed away last Monday at the Raymond G. Murphy VA Medical Center cafeteria, when staff failed to take him to the emergency room — which was 500 yards away.
The 71-year-old man (whose family asked he remained unidentified) collapsed around noon last Monday. Instead of wheeling him straight to the emergency room, which was four minutes away, staff followed "policy" and called 911 since the incident took place outside the main hospital building. While the personnel performed CPR on the man, it took between 15 and 20 minutes for the ambulance to arrive and take the man next door.
By that time, it was too late.
Image Credit (both): KOAT
How can this happen? According to authorities, the policy is a local one. In many instances, it's faster and more efficient for staff to wait for an ambulance than to get someone to the emergency room by foot. But in this case, rigid adherence to policy prevented hospital staff from reacting like normal people and getting medical help as quickly as possible, especially considering the man was already at the hospital.
In the wake of the VA scandal, it's hard to see this as an isolated incident. According to the latest reports, around 1,700 veterans and 1,400 ex-military members have had to wait months to see their primary care doctor, while a June Gallup poll found that more than half of veterans believe they have "somewhat" or "very difficult" access to VA health care — at an agency where more than 18,000 people make an annual salary of $180,000 or more.
While the story of this veteran who passed away in a VA cafeteria — or this vet, who didn't receive a doctor's appointment until after he passed away — is sad and disturbing, it's unfortunately more common than you might think.