19 Powerful Photos to Remind People That Women's Bodies Aren't Just for Them to Look At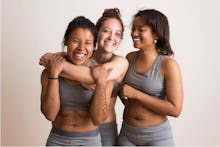 If you're a woman, a day doesn't go by without being flooded by a sea of unrealistic images of digitally enhanced bodies. It's like everywhere you look there's an unreasonable hip-to-waist ratio Photoshop-cyborg on a billboard staring you down while you're trying to enjoy your Doritos Locos Tacos in peace. Some days it might feel like they are multiplying. That's because they are.
Even companies like Dove, which claim to use non-models to represent "real beauty," use Photoshop to enhance their ads. A photo project titled "Rugged Grace" aims to expand that definition of beauty. Organized by the Harvard-Radcliffe Rugby Football Club, it explores how sports shape women's identities and the perceptions of the body. On their Tumblr, the team explains the intentions of its project:
"We decided to have players write what they loved and appreciated about each player on their body, in the hopes of opening a visual discussion about beauty, strength and appreciation. We decided to have players write their favorite things about other players physically on their bodies to demonstrate the immense body positivity, encouragement of strength and utility and the overall supportive nature of this team."
The team also co-authored an essay about the culture of body positivity in rugby. Amy Perfors, one of the players, writes about the sport's unique celebration of female strength:
"There is almost nothing in our society besides rugby that allows women to be truly physically aggressive, to use our bodies in the same unself-conscious, unafraid, assertive way that men use theirs all the time." 
Given that 6 out of 10 girls have quit a sport because of insecurities related to their bodies, it's encouraging to see young women honoring a different set of standards. Take a look at some of their photos and check out the entire set on the Rugged Grace Tumblr.
1.
2.
3.
4.
5.
6.
7.
8.
9.
10.
11.
12.
13.
14.
15.
16.
17.
18.
19.