An Honest Translation of the Anti-Discrimination Speeches FIFA Has Been Making Players Read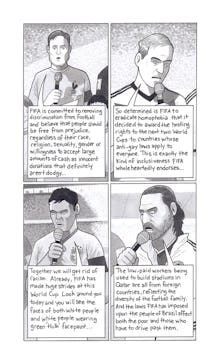 Soccer fans worldwide agree: Brazil 2014 may be the "best World Cup ever."
Too bad it came at a cost. Amidst the last minute heroics and gravity-defying goals, people seem to have forgotten the brutal police crackdowns, rampant dislocation and erosion of social services that enabled the tournament's "success."
Blame FIFA, the sponsoring organization whose callous hypocrisy is matched only by its savvy in obscuring the damage it inflicts. Luckily, we have Australian illustrator David Squires to keep us honest.
Using the "anti-discrimination" text FIFA has players read before matches as an entry point, the artist has created a series of comic panels interpreting what these messages really mean.
Check them out:
Image Credit: David Squires
The breakdown: Moving clockwise from the top-left, the first panel alludes to the corruption allegations around FIFA's decision to let Qatar host the tournament in 2022.
In early June, the Guardian reported that Mohamed bin Hammam — a Qatar native and former member of FIFA's executive committee — allegedly "paid $5m in cash, gifts and legal fees to senior football officials to help build a consensus of support behind the [nation's] bid."
Image Credit: AP
The charges are under investigation, but critics are already calling on FIFA to reopen the 2022 bidding process. Things aren't looking good.
Second: The next panel is a stab at FIFA's hypocritical stance on homophobia. In expressing its commitment to "eradicating" this form of bigotry, the organization fails to see the irony in awarding the next two World Cups to Russia (2018) and Qatar (2022), two nations whose records on LGBTQ rights are far from sterling.
Image Credit: AP
When it hosted the Winter Olympics in Sochi earlier this year, the Russian government's notorious "anti-gay propaganda" laws were met with widespread international protests, tainting the games. In Qatar, homosexuality remains illegal and extramarital sex of any kind is punishable by death.
Third: The bottom-right panel touches on the disturbing labor practices behind the construction of Qatar's and Brazil's World Cup stadiums.
In Qatar, dangerous working and housing conditions have resulted in the deaths of over 1,200 migrant workers from India and Nepal, with 4,000 deaths expected by the time the tournament begins.
Image Credit: Press TV
Construction for Brazil's World Cup and 2016 Summer Olympics venues have similarly come under fire: Charges alleging "forced displacements and evictions, forced labour, discrimination, lack of consultation of affected communities, child labour and violent repression of protesters" abound.
Finally: And what would an international sporting event be without a hefty dash of racism?
This World Cup's standout incident came when Team Germany supporters were photographed wearing blackface to a Ghana match.
Image Credit: Getty
But professional soccer has never been a stranger to racist fans: Racial epithets and bananas hurled at black players are just part of the equation and are often met with harsh punishment and lifetime bans. The panel may also be alluding to the perceived whiteness of World Cup attendees, no doubt stemming from high American and European fan attendance.
So: FIFA's dirty laundry is on full display here and hopefully, as a result, it will become more difficult to watch the tournament without considering its implications. The people who suffered to make this the "best World Cup ever" deserve recognition. And David Squires deserves a pat on the back for giving FIFA the public flogging it's so rightfully earned.