These Anonymous Messages Sum Up What Many Veterans Experience When They Return From War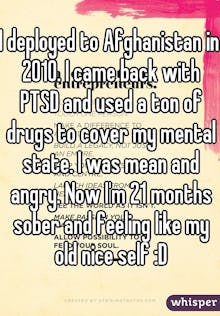 The news: A new report from Human Rights Watch says that up to half a million of our returning veterans from Iraq, Afghanistan, and other wars are suffering from substance abuse disorders — with some of the biggest offenders including opioids and alcohol.
A stunning 1 million use prescription opioids for pain, and nearly half of those use them "chronically," or for more than 90 days.
While illicit drug and tobacco use rates have been falling over time among Army staff, alcoholism is on the rise and so is prescription drug abuse. The National Institute on Drug Abuse claims that some 27% of soldiers meet the criteria for alcohol abuse three to four months after returning from deployment, while prescription drug abuse doubled among U.S. personnel from 2002-2005 and almost tripled from 2005-2008.
The VA estimates that 22 veterans commit suicide every day. One out of three completed Army suicides involves drugs or alcohol. It is estimated that around 40% of the veterans in VA care have post-traumatic stress disorder, another unfortunate trend highlighted recently on July 4 when fireworks displays brought about panic attacks and anxiety among some veterans.
Whisper is a service that allows users to post short, anonymous messages. These powerful messages posted to the site show how widespread substance abuse can be in the military community — and illustrate the need to do far more.
The VA issued three recommendations in the latest report: Increase the supply of life-saving medication like naloxone, which reverses opioid overdoses; perform more medication-assisted therapy for veterans suffering from addiction; and focus on "Housing First" programs which unconditionally provide housing to chronically homeless vets so that they can be surrounded by supportive services.
Whisper's editors claim to authenticate postings. The process is described below:
"Whisper allows users to share personal experiences and thoughts they might not be comfortable sharing publicly or while tethered to a user profile," said Whisper editor-in-chief Neetzan Zimmerman. "The anonymous nature of Whisper creates an entirely safe space for discussion, advice, and support. The only incentive for posting whispers is to be able to participate in an authentic conversation around themes that matter."