This Is the Guy Who Bought Washington State's First Bag of Legal Weed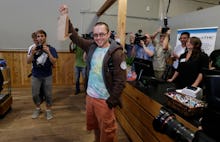 Legal marijuana sales are rolling in Washington State. A store in Bellingham, Wash., just sold the state's first bag of legal retail weed to this guy.
Photo credit: Seattle Pi
The buyer: Cale Holdsworth came to Washington from his hometown of Abilene, Kan., for his grandfather's 84th birthday, and while he was in town he decided to camp out in line for a bag of legal weed outside Bellingham's Top Shelf, a brand new retail marijuana dispensary that opened its doors at 8 a.m. on Tuesday. Holdsworth purchased the state's first ever bag of retail weed — two grams of OG's Pearl for $26.50, including state tax. "This is mainstream, and now it's finally legal and we can enjoy it!" an exuberant Holdsworth told The Stranger.
No local competition. Top Shelf is one of two local stores that received licenses to open today for retail marijuana sales. The store got one of 24 retail licenses issued by the state government on Monday. Another Bellingham dispensary, 2020 solutions, was also set to open today but had to delay its opening due to supplier issues, driving even more of a rush to Top Shelf. John Evich, owner of Top Shelf, sympathizes with his competition's plight. "I was hoping to invite them here to our store so that we could celebrate the day together," he told Mic. "But I just haven't had a free second."
Demand through the roof. "When we opened this morning, the line went all the way around the corner of the building … And it's a big building," said Evich.
He expected demand to fall short of what Colorado dispensaries saw when they rolled out retail marijuana sales on January 1. Colorado was the very first state in the US to sell cannabis to adults without a prescription, and the fanfare around a New Year's Day rollout only added to the frenzy. Nevertheless, Top Shelf is having a killer first day thus far.
As of noon on Tuesday, the store had served 334 customers, each purchasing a two-gram bag for $19.82 plus $6.68 in tax (33.7% sales tax).
"And there's still a huge line!" said Evich, who was scrambling around his store to keep things in order while welcoming in droves of customers. According to BioTrackTHC, a system for monitoring cannabis supply and sale for dispensaries, Top Shelf is outdoing many of Colorado's first day retail numbers.
"Three-hundred sales in four hours is pretty good!" says Evich.
High on supply. When asked about the impending weed shortage, Evich said he wasn't concerned. "We've got plenty of product, and we've got more on its way here right now." A shipment of one-gram bags from Green Farms in Seattle will replenish Top Shelf's supply before long.
Despite a somewhat messy lead-up, the threat of a supply shortage, and skepticism abound, Washington State's very first retail sales are chugging along fine and happy customers are walking away with legal weed in their hands.