Sikh Americans Are Leading a Historic Fight Against "Anti-Turban Bias"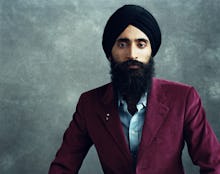 An historic move: In the Sikh religion, the faithful are driven by belief in "chardi-kala," or a life of perpetual optimism.
It allows them to meet even the darkest times with remarkable resolve and a desire to help others. But in America, things are rarely so simple. A persistent and often violent "anti-turban bias" has led to a disturbing rash of hate crimes lately, and for the first time at this scale in their 120 years years on U.S. soil, Sikh Americans are fighting back.
The Sikh American Legal Defense and Education Fund (SALDEF) has partnered with Comcast for the first-ever Sikh American public service announcement - a landmark step in their fight against bigotry. The spot will air through the month of July, and feature renowned designer and actor Waris Singh Ahluwalia as spokesperson.
The PSA's message as as simple as it is important: There's nothing at odds about being both a Sikh and a proud American.
Check it out:
The background: "We look at this PSA as an opportunity to introduce our neighbors to Sikh Americans so we can address anti-turban bias head on," SALDEF Executive Director Jasjit Singh told Mic. "We recognize that while there are Sikh Americans that are a visible part of their communities, not everyone has a chance to meet them."
Sikhs have been an integral part of American culture since the 1890s, only slightly more recent than Chinese Americans. That's a long time to remain so consistently misunderstood, yet according to a 2013 study, 70% of Americans still can't identify a Sikh man from a photograph and about half believe Sikhism is a sect of Islam. More Americans associate turbans and beards with Osama bin Laden than other Sikh or Muslim alternatives.
That these misconceptions persist is both troubling and unfortunate. That they've helped enable murder is nothing short of horrific.
For example: Sikh businessman Balbir Singh Sodhi became the United States' first victim of fatal post-9/11 violence when he was shot and killed outside his gas station in Mesa, Ariz., on Sept. 15, 2001. The latest such incident occurred in August 2012, when white supremacist Wade Michael Page murdered six people at a Sikh gurdwara in Oak Creek, Wisc. Over 300 such incidents occurred in between, from Southern California to Michigan to New York City.
Image Credit: AP
The Oak Creek shooting was the most fatal tragedy at an American house of worship since the 1963 Birmingham church bombing. But it was also a national wake up call, prompting U.S. Attorney General Eric Holder to start documenting hate crimes against Sikh Americans for the first time in U.S. history.
There's more: These violent incidents aren't just unconsciable acts of hatred, they also "clearly indicate a lack of awareness around Sikh Americans" and their beliefs, added Waris Ahluwalia.
"This [PSA] was an opportunity for me to narrate a powerful manifesto with an audience that is two-fold," he told Mic. "[Firstly] a national audience that may not be familiar with the Sikh community and secondly to show young Sikh Americans that their paths can be limitless."
His second point is especially important for young people to hear, considering Sikh American children are far more likely to be bullied than many of their peers. According to a Sikh Coalition study, over 50% of Sikh children endure school bullying, rising to about 67% when exhibiting one of the religion's traditional articles of faith.
Image Credit: The Sikh Coalition
To put that in perspective, the national bullying average has been reported at 32%.
So the larger question remains: How do we best combat this negative attention? There are no easy answers, but a recent study from SALDEF and Stanford University may have a solid place to begin.
The above forms of harassment are clearly rooted in ignorance around Sikhism in America, as brown skin and turbans have widely become associated with terror and violence. At the same time, "[Crude] popular culture stereotypes of terrorists and damaging media images outside the classroom have made their way into the classroom," says the Sikh Coalition, "to the detriment of young Sikhs."
With this in mind, the study identifies the mass media as a key tool for spreading misconceptions about Sikh Americans — and conversely, as an equally important means of combating them:
"Hollywood and the news media have continued to 'otherize' those with turbans and beards as something sinister and to be afraid of," SALDEF's Jasjit Singh told Mic. "Specifically after 9/11, the failure of the media to highlight the differences between groups that wear turbans, or the high number of hate crimes that were committed against Americans who looked a certain way, was a crucial missed opportunity to educate about all of the post 9/11 communities, including Sikh Americans."
With this in mind, the post-9/11 media coverage is a huge part of the problem.
But the chance to educate is an opportunity SALDEF is unwilling to let pass again. By broadcasting this PSA, the organization aims to take crucial control of the popular narrative surrounding its community and, by extension, all who are singled out and harassed because of their appearance. It's also the launching point for a renewed branding effort, a way to both "[empower] Sikh Americans to take their place in U.S. history" and "[promote their] contributions to society and be viewed as an integral part of the American fabric."
Nevertheless, it's incredibly disturbing whenever a minority group feels the need to explain, defend or legitimize its presence in America, especially to avoid becoming victims of discriminatory violence. But when Mic asked Jasjit Singh whether this brought him any particular frustration, he had this to say:
"What's really important for non-Sikhs to know about our faith is our belief in ... perpetual optimism. From when we are young children, we are taught that this way of living is a natural extension of how Sikhs view God as one, omnipresent being that connects us all. I have been blessed with the opportunity to serve my community even in the most challenging times, and I've seen chardi-kala in-action ... So we are not frustrated. What keeps us up at night is making sure that our work creates a fostering environment for all Americans, including Sikh Americans."
It's an outlook that's remarkably measured and forgiving considering the terror and violence Sikh Americans have faced in recent years. But perhaps that's the point: Whatever the obstacles might be, the simple desire to be accepted and respected remains an uncommonly powerful motivating force — not just in America, but universally as well.