Washington's First Retail Weed Store Broke Colorado's Marijuana Sales Record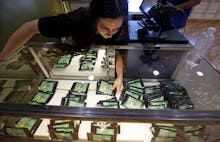 The news: Washington's first retail marijuana store is raking it in with estimated first day sales of over $30,000 — beating out Colorado dispensaries' average first day retail sales earlier this year.
According to store owner John Evich, Top Shelf in Bellingham, Wash., served the state's first legal sale, plus over 1,200 customers between 8 a.m. and 10 p.m. on Tuesday, unloading just over five pounds of product. At $26.50 per bag, that's $31,800, including over $10,000 in sales tax. Based on one estimate of first week sales of Colorado's first 37 retail dispensaries, each store raked in just under $20,000 a day in their first week. By another estimate, Colorado's million-dollar first day accounts for about $28,000 per store. Either way, Washington's retail marijuana sales are off to a killer start.
Shortage woes at bay. Predictions about Washington's disastrously low supply of approved retail cannabis have yet to hamper the market's early momentum. While some stores were unable to kick off today due regulatory snags and logistical issues, Evich's steady supply from multiple suppliers was enough for all of his customers. Evish told Mic that's he's unsure if he'll be able to keep matching supply with demand, but he remains confident that the market will balance itself out over time.
After the dust settles. Following the initial surge of customers, once the novelty of buying legal weed wears off, a major challenge for pot retailers in Washington is competition with the black market. But Evich told Mic he believes that people would rather pay the premium and avoid the potential legal trouble that comes with buying black market weed. Moreover, the wider selection of strains and detailed product information give retail stores a quality advantage.
Colorado's legal cannabis market began with similar concerns, but over time competition between the growing number of dispensaries saw prices drop significantly. Evich is counting on the same effect in Washington. "The supply will go up, and when it exceeds the demand, we'll be able to lower our prices," he told Mic. "And that's what we want to do."
Pop-up economy. For Evich and other retailers around Washington, the weeks and months leading up to legal cannabis sales were fraught with uncertainty, and many scrambled toward the finish, but the culmination of their efforts is shaping up to thrive. As Evich puts it, "30 days ago we had an empty warehouse and now we have a fully licensed retail business that serviced record numbers today."